Samantha Brown Tip: How to Manage Stress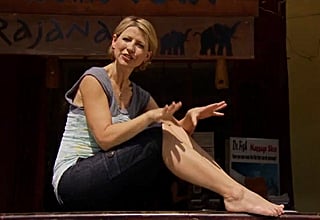 During the Samantha Brown interview for our Dream Job series, Sam shared with us her tips for de-stressing. I imagine it must be tough to be constantly traveling, especially if you're doing it 250 days out of a year like she is. Here's what she had to say:
"I would say a good night's sleep is imperative for me. I need at least seven hours and if I don't get seven hours I start to get really cranky. Also, eating well is a part of maintaining stress. If I can't find good food to eat. I rarely eat fast food, I'll go to grocery stores and buy bags of green and just eat them raw. I love vegetables and vegetables just make me feel healthy and they give me a lot more stamina and the endurance I need to do my job. I also usually walk wherever I travel to. I go for long, I mean, four or five hour walks when I have the time. If we're shooting, I don't have that time, but on my day off, I rarely have an itinerary. I don't have a list of things I have to do because that's my work schedule. On my days off, I'll just walk through the city and go where the day takes me. I rarely refer to travel books or guides or magazines. I just go where my heart takes me, which I think is a really important element in travel that I think rarely people bring to their travel. Everyone has a very set itinerary and all these dos and don'ts and really you should just kind of wander and get that childlike discovery to get that feel of what it's like to have that childlike discovery again.
Love her tips? Read our exclusive interview with Samantha, the woman who has our ultimate dream job!