Save on Last-Minute Travel
11 Sure-Fire Ways to Save on Last-Minute Trips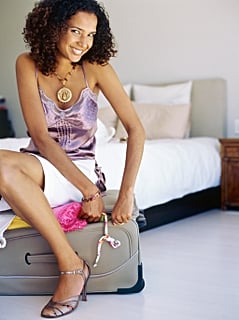 If you haven't booked your Thanksgiving trip, you better get going. Fees are going up and up, and it doesn't seem like they're about to drop. Since there are going to be fewer travelers this year and airlines have cut thousands of seats this holiday season, ticket prices are expected to be six to 12 percent higher than last year. Here are some ways you can still save as a last-minute traveler:
Be realistic: Keep in mind that tickets are going to be more expensive, so don't keep hoping that you'll be able to get tickets for the same price you got last year. Factor in the six to 12 percent increase in costs.
Act fast: Don't hold off on booking and keep telling yourself that it's going to go down. If you see a good deal, just book it before it rises — you're out of time. I've made that mistake before and the prices just kept rising, so I had to change my travel plans. If you're willing to risk it, use the fare predictor on Bing Travel to give you an idea of whether the ticket price is about to rise or fall.
Use your points: When prices are inflated, it's the perfect time to use the reward points you've accumulated. Play around with the points you have in every account to see which one gets you a better deal. You can often combine points and cash to get the flight, hotel, or car you want. Remember that you don't always get a better deal when you're redeeming items in the same category. Sometimes you can get a great rental car deal with mileage points or a flight with hotel reward points. To better organize your points, be sure to sign up for Award Wallet. It's a site that'll help you view all your rewards in one place.
Ask for points: Another idea is to ask a family member or a good pal to donate some points to you to help you out. Depending on the program, the process can be quite lengthy or old school — the donor might have to go directly to a mortar and brick office to book on your behalf or they might also be charged a fee for transferring points. Offer to cover the fee to compensate them for giving you a hand.
Read on for more ways to save.
Consider buying points: Since the prices are inflated, you'll probably get a better deal by redeeming your points. If you don't have enough points in your account, you can actually buy them. And if you're in luck, the rewards program might have a discount special going on right now. For example, Starwoods Preferred Guest has a deal going on that lets you save 20 percent when you're buying points.
Priceline it: Bidding for a hotel on Priceline and Hotwire is always an option, although last-minute blind bookings don't always get you a good price. Do some research before bidding so you'll have a better chance at not having your bid rejected. Find out what other people have successfully bid for the hotel you want on forums like Better Bidding and Bidding For Travel. Read here for more tips on how to play the Priceline game.
Stay at a stranger's place: Still can't find a good hotel? Rent someone's room or place on Airbnb for the weekend. The site is like a more upscale and safer version of Craigslist. Check out CouchSurfing.org, a volunteer-based network in which you can crash on someone's couch for free. I've never tried this, but I've heard of people staying at monasteries and convents on their travel as well, so that can be another option for you.
Pick a nearby airport: Another way I've saved on flights is to pick a nearby airport. And by this, I don't mean just the logical choices that are 20 to 30 miles away. Sometimes, you might even have to travel 70 miles away to an airport in a different city or state. Just remember to take the bus or train to get there and have a friend drop you off at the train station. I've done this before when I was living in Chicago and flew from the Milwaukee airport. Sure, it took me two hours to get to the airport by public transportation, but I managed to save about $150 to $200 on my ticket.
Be flexible with timing: This goes without saying, but flexibility will be your best friend when you're a last-minute traveler. It may be painful, but red-eye flights will give you a better deal. Try to schedule just one red-eye flight instead of red-eye flights on your returning and departing flights to give yourself a break. Travel on the actual holiday itself, such as Thanksgiving Day, for a cheaper deal. Shift your schedule so you can fly back a few days later or earlier for a better price.
Take the bus or train: Are the flights simply too expensive? Look into taking the bus or train if the destination is not too far away. Many buses provide WiFi now and have fewer checked baggage fees. Further, you can even make an emergency call on the bus or train if necessary — something you can't do when you are flying. To find out how to get to your destination by public transportation, check out HopStop.
Change your plan: The more obvious solution is to know when to admit defeat and back out if the trip isn't of utmost importance. Instead, pick a different location or go on a fun staycation. You can also start planning for the same trip months in advance.