Save Money in Restaurants
Save on Eating Out in 2012 With These 12 Realistic Tips!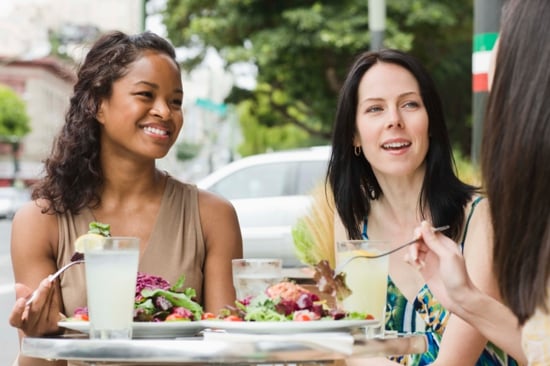 One of the hardest thing to budget in the past year was eating habits, according to SavvySugar readers. Of course, there is always the simple solution of just eating at home more often, but you can still cut your food bill here and there when you're eating out. We've given you plenty of tips in the past on how to save when eating out so we're rehashing some of the best ones as well as throwing in some our new frugal ideas! Here they are:
Use coupons. Go to Restaurant.com and enter in a coupon code for restaurant.com that'll get you a $25 voucher for only $2. You can find the coupon code by searching the keyword "restaurant.com" on the coupon site RetailMeNot. Buy a local Entertainment book worth $15 that will give you lots of buy one get one free coupons for restaurants.
Don't eat out when you're dining solo. Try to save your meal excursions for when you're with friends and family. This means that if you're planning on grabbing a quick bite by yourself, it's better to prepare something at home to eat instead. A big part of the joy of eating out is ambiance and company, so save your money and skip grabbing quick meals when you're alone.
Ration meals with friends. Even if you're saving all your meals out for when you have company, don't be too liberal when you're scheduling them. Try to rotate among different people if you're planning on having one-on-one dinners and space it out. Remember you can always catch up with people over drinks or during a fun activity so don't feel bad about skipping dinner.
Opt for lunch: Oftentimes, the lunch menu is a lot cheaper than dinner. When meeting up with people, try to opt for lunch as your preferred meal. Be sure to also pick their lunch specials.
Read on for more tips.
Pick the place. Remember not everyone is watching their budgets as carefully as you are, so try to be the one to offer a list of wallet-friendly (but good!) restaurant suggestions. Do your research on Yelp and narrow your search results by setting a limit with their price feature.
Hone your cooking skills. Maybe you don't like to make food at home because you just don't think it tastes good or it takes too much time and effort. Improve your cooking skills by experimenting with online recipes or even learning from a savvy friend so eating homemade meals will become something you'll be looking forward to.
Earn rewards. Do your research on sites like Mint and Credit Card Guide to figure out which credit cards give you the best rewards for your diner bucks. Oftentimes, if you're a loyal member of a mileage program, you can even earn some miles by eating at the restaurants the airline partners up with. For example, Southwest has a Rapid Rewards Dining program that credits three points for every dollar spent with their restaurant partners.
Skip the drinks. Soda, alcohol, and other nontap water drinks tend to be overpriced at restaurants. Get water with your meal, and if you're really itching for a particular drink, wait until dinner's over and head to a convenient store to buy it.
Make meals out of leftovers. Bring back a doggy bag and try to make an entirely new meal out of your leftovers. For example, when I had leftover steak one time, I chopped it up and stir fried it with veggies for a brand-new dish.
Order appetizers. Ask the waiter how big the appetizers are at the restaurant or look at what the people near you are eating. Sometimes the appetizers in itself are big enough for a meal!
Order plates to share. If you're out with a group — and out to get the most bang for your buck, order a couple of plates to share. Often times, portions are big enough for two, or even three, besides, sharing means you'll get to taste a little bit of everything — without plunking down extra cash.
Get daily deals. Sites like Groupon and Restaurant.com sell restaurant gift certificates for less than face value — so you could score a $25 coupon, but pay only $10.
Remember, another great way to slash your food costs is to save money on your grocery shopping. Check out our best grocery tips and tricks!