Save Money Twice Over and Make Magnets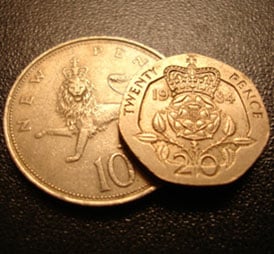 Step away from that overpriced gift shop display. I know it's hard to resist the $5 pens with ships that "sail" when turned upside down before crashing into the other side. But also crashing is your vacation budget. While always tempting to bring back a lil something special from your journey, this DIY souvenir came to me when I recently found some foreign change in my purse's interior pocket. As it turns out, some euros are copper-covered steel and stick to magnets — like the clasp of my purse — with no adhesive.
Even if you find pence or pesos of other alloys, make magnets on the cheap using a magnetic strip with adhesive backing from the local craft store or an old magnet and some glue. Not only does this souvenir cost much less than any cheesy, store-bought magnet, but you'll also be reminded of your doubly smart savings long after you return home, each time you open the fridge.