Saving Money on Weddings With the Help of Friends
How Stefanie Used the Friend Economy to Fund Her Wedding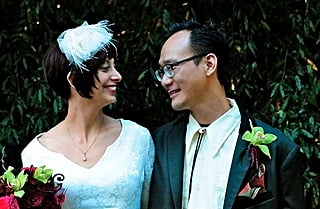 Stefanie Kalem and Gene Bae's beautiful outdoor wedding was recently featured in a gorgeous CasaSugar slideshow. The happy bride managed to stick to a savvy wedding budget with the help of what she called the Friend Economy — a collective effort of helping hands from her friends which reduced the costs of many wedding services. I spoke to Stefanie who shared some great tips on utilizing the Friend Economy approach!
SavvySugar: How much did you save with the Friend Economy?
Stefanie Kalem: Oh, man. Thousands, easily. We were able to throw a spectacular, memorable, unique party for 125 people for about $12,000. Our photographer and wedding planner were both free, as were our cake and 12 dozen cupcakes, made by two talented baker friends. Our amazing outdoor site in the redwoods belongs to our officiant's parents, and all we had to pay for was a port-a-potty rental ($120 — don't tell the company it's for a wedding or they'll charge you eight times that!!); table, chair, and linen rentals; and a site manager so that the homeowners didn't have to work the day of ($30 per hour). Our appetizers — ceviche, gimbap, gravlax, and a cheese board — cost us $500 total, which is also what we paid for our stunning flowers. We got our wine and liquor for wholesale plus 10 percent thanks to a friend who works for a liquor distributor; a girlfriend altered my dress (which was vintage and scandalously cheap to begin with) as a gift; another friend made my headpiece for free and my attendants' gifts for $60 total. In addition, we had friends help set up and break down, lend and operate lights and audio equipment, DJ, and perform music. Perhaps we didn't get as many housewares as some new marrieds receive, but we're both in our thirties and have been out on our own long enough to have most of the pots and pans we need.
For more Friend Economy tips, read on.
SS: How did the Friend Economy phrase come up?
SK: You know, I'm not sure that I or we came up with it . . . it seemed like I'd heard it before when I started using it, but perhaps not. It just seemed to make sense, since so many of our friends were providing services for our wedding, and in many cases the "currency" was our relationship with them (at least partially, if they were providing discounted services, as in the case of our florist and appetizer chef; or completely, in the case of our photographer, wedding planner, invitation designer, etc.).
SS: From your own experience, what tips do you have for people who are attempting to use the "friend economy" approach?
SK: Patience and trust are key. When people are doing huge things for you for free or cheap, usually in whatever spare time they have outside of their day jobs, regular creative projects, and social and home lives, you have to give them the space and freedom in which to do it. It's OK to inquire about their progress, of course, but, since yours is not simply a financial relationship (i.e., one wherein you're a random client holding the purse strings and they are simply a service provider) both parties have to keep the friendship in mind. Hopefully they respect your friendship enough to respond to your needs in a timely and satisfactory manner, and you respect it enough not to get all Bridezilla on them. We were very lucky to have that be the case throughout our planning process.
SS: What are the benefits and drawbacks of this approach?
SK: One of my favorite things about doing our wedding this way was that, even in the hectic last few months of planning, we were still able to have a fun social life, since we were constantly getting together for dinner or drinks or chatting on the phone with our officiant, florist, et cetera, to work out the details of the event. Of course, you have to expect that things will sometimes take a little longer than you'd like — since, as mentioned above, people are working for you in their spare time — but you can also expect that the product, whatever it is, will be better, and certainly more personally relevant, than it would be with a stranger. You have to be willing to be a little bit shameless, too, in asking people to do things for you at a reduced rate; and you have to be OK with telling friends you can't afford their services, or hearing that someone you care about would rather be a guest at your wedding than shoot video (which is actually kind of nice, but, well, then you don't have video).
SS: What other parts of your life have you used the Friend Economy technique?
SK: I have to say that, whenever my husband or I need something done, the first question we ask is, "Do we know anyone who does this?," and the second is, "Who can recommend someone to us?" Perhaps it's because we live in the Bay Area, where people move a lot, and neither of us has yet been in the financial position to hire movers; when we need to haul our stuff from one part of town to another, we buy our friends pizza and beer and they help us out. So it extends from there. Also, I work for a nonprofit theater company, and nonprofits frequently partner with other organizations to fulfill needs, and accept "in-kind" donations of food, wine, equipment, et cetera. So we've adapted that thinking to many other areas of our lives — when it fell on me to start shooting and editing video for my employer, I asked one of my filmmaking friends to teach me Final Cut in exchange for tickets to a play at my theater. Even if you're not someone with a lot of artist friends, as we are, you'd be surprised at how many real estate agents and IT guys you know do creative things on the side, and would love to help you out. And beyond getting help from people we know, we also believe strongly in supporting local businesses, so that we feel like, even when we pay full price, we're paying to deepen a relationship with someone who holds stock in where we live, not just someone punching a clock at Starbucks or Best Buy. It's all part of the same philosophy of thoughtful consumerism.