Shoes-Off Screening at the Airport to Be Stopped
Shoes-Off Screening to Be Phased Out at Airports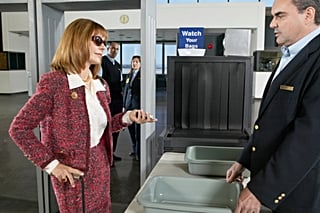 It's such a chore walking through the airport screening these days. Your shoes, outerwear, and jewelry come off, and your electronics and liquids have to be taken out of your bags and dumped into a tray.
There's good news and bad news for passengers sick of these screening rituals. The good news: the U.S. Homeland Security Secretary Janet Napolitano recently announced that travelers won't have to take their shoes off at airports in the future. Before you start jumping up and down for joy, here's the not-so-good news: the technology needed for scanning shoe-wearing passengers does not exist yet, and won't be available soon.
And for those who find the liquid limits for air travelers tedious and confining, no hope on the horizon there. Napolitano says, "The technology isn't quite there yet, and it won't be for a while, but I think one of the first things you will see over time is the ability to keep your shoes on, and one of the last things you will probably see is a reduction or removing the limitation on liquids."
What are your pet peeves about the airport screening process?