SodaStream Review
Does a SodaStream Really Save You Money?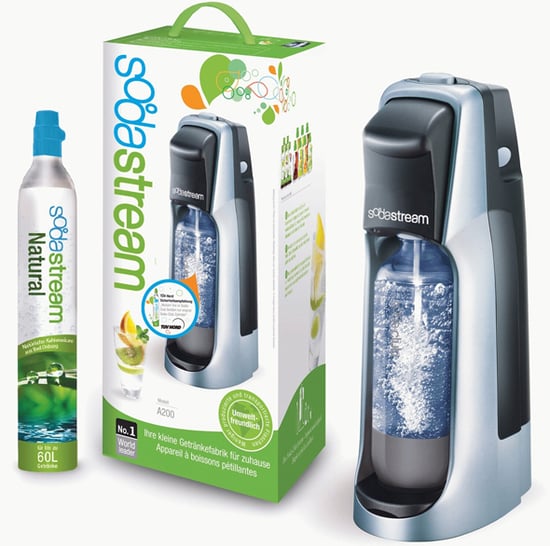 There's nothing more refreshing than a bubbly drink, but sipping that beverage can bust your budget — even if you're drinking plain mineral water. I admit to having a pretty severe sparkling water obsession. It's sans calories, fat, or additives, and is satisfying with a splash of fresh juice, which made checking out the SodaStream pretty enticing. With the help of a carbonating cartridge that costs $15 per refill, the SodaStream promises up to 60 liters of bubbly beverages. So, did it deliver?
Read on for the review.
Where to Buy
You can purchase a SodaStream machine online and at your local Costco, Best Buy, Target, Bed Bath & Beyond, or Walmart. I found a style that I liked and made the order via Amazon for $100 and it was on my doorstep in only a few days. The SodaStream came with a single cartridge, one bottle for making fizzy water, and a sample selection of soda mixes. You can purchase extra soda bottles, CO2 cartridges, and flavored mixes for an additional cost.
How It Works
The contraption was very easy to put together and came with detailed instructions in case of confusion. I couldn't wait to taste test, so filled the water bottle to the designated line, properly screwed in the container, and pressed the carbonation button. I was a bit surprised at the amount of pressure needed for it to make the buzzing sound, which alerts you that the water is carbonated. But after getting the hang of it, the result is fizzy water in seconds straight from the tap.
Taste Test
I compared SodaStream plain carbonated water to my favorite mineral water and didn't find a big difference in taste (but did notice a significant jump in price). A one liter bottle of mineral water can run up to $2, while making your own with a SodaStream costs about 25 cents per liter. I also put one of the soda flavors to the test, staging SodaStream's root beer against a popular name brand that costs $2 per liter. You can purchase a variety of soda flavors, costing from $5 to $7 per 500 ml container, which makes 12 liters of your favorite flavor for as low as 65 cents per liter. I admit that the SodaStream root beer tasted pretty similar, with just a hint more sweetness than the name brand soda.
Is the SodaStream Worth It?
Yes! After putting the machine through a rigorous workout, the SodaStream delivered the estimated 60 liters per carbonation cartridge and I had no problem trading the canister for a fresh one at my local Bed Bath & Beyond store for $15. I love that the recycling bin isn't overflowing with mineral water bottles and soda cans, and the price can't be beat. But if you're a die-hard fan of your favorite soda brand, you may have to retrain your taste buds to the SodaStream's flavors.
Do you have a SodaStream? What's your review?