Staples Sells Dunder Mifflin Paper
Brilliant or Baffling: Dunder-Mifflin Paper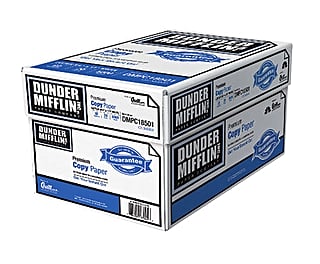 In an effort to boost paper sales, Staples will start selling Dunder Mifflin-branded paper that's priced at $35, which is about $5 more than the regular store-brand paper. The packages will have quirky mottos such as "Our motto is, 'Quabity First'" and "Get Your Scrant on," printed on the packages. The Wall Street Journal highlights this new marketing trend:
The Dunder Mifflin deal is an example of "reverse product placement." For decades, marketers have worked to embed their brands in the plots of TV shows and movies as a way to stand out in a crowded ad market. Nowadays, they are seeing value in bringing to life fictional brands that are already part of pop culture. That can be far cheaper than building brands from scratch.
I think what drives customers to buy isn't gimmicks but cost. At least, I know that's the case with my purchasing patterns. What do you think — is selling Dunder Mifflin paper a good idea?