Students Sell Sex to Pay Off School Loans
Harvard Students One of the Top College Users of Sugar-Daddy Website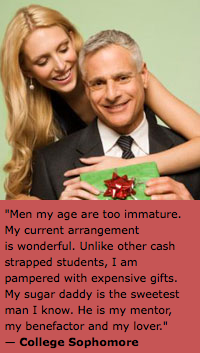 As costs for tuition soar, college students are scrambling for ways to pay off their student debt. In the latest exposé by Huffington Post, we're clued into this alarming new trend of higher education students turning to online sugar-daddy websites to pay for school. The "arrangements" many of the members agree to often include sex and some sort of money transaction. One such website, SeekingArrangement.com, shared some statistics about its student userbase with HuffPo, which revealed a good number of Harvard students on the site. Here is a list of the top 10 undergraduate universities attended by the "sugar babies":
New York University: 498 users
University of Toronto: 471 users
Pennsylvania State: 434 users
Ohio State University: 398 users
University of Wisconsin: 345 users
University of Oklahoma: 312 users
University of Georgia: 281 users
University of California at Los Angeles: 253 users
Harvard University: 231 users
University of Minnesota: 218 users
Other top colleges include UC Berkeley, ranked at 13 with 193 users, followed by University of Michigan with 189 members and University of Southern California with 183 sugar babies. Many students use their official school email addresses that end with an .edu in order to get the free account upgrade from SeekingArrangement.com. This helps the site compile its data on the student demographic.
I agree with TrèsSugar Assistant Editor Tara Sharp that these girls can definitely find a more responsible way to pay for school if they put in some time and effort, and that in this case, the ends don't justify the means. It's sad to see the amount of students on the site more than tripled compared with stats from 2007, which is partly thanks to its sneaky marketing tactics of buying ads that pop up when people search for terms like "tuition help" and "financial aid." I'm wondering, do think these sugar babies knew what they were getting into?