Succulent Wine Corks
Mini Succulents Make an Adorable DIY Gift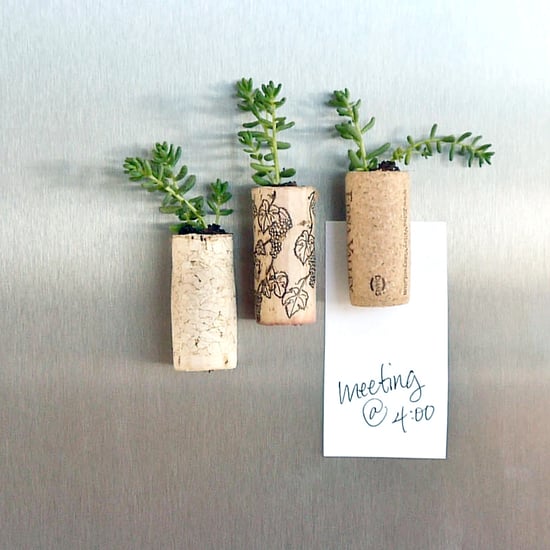 If you're trying to figure out the perfect gift for your office mates, save some cash and DIY these cute wine-cork magnets. They only cost a few dollars to make and giving a collection is a special way to say you care. So call all your girlfriends, invite them over — with all of their wine corks — and get crafty with this fun project.
Read on for the directions.
What You'll Need:
Peel-and-stick magnets
Wine corks
Scissors or craft knife
Hot glue gun
Small succulents
Dirt
Tweezers (optional)
Directions:
This cute DIY is so simple and comes together in minutes. Start by attaching the magnets to one side of the wine cork. Secure with a bit of hot glue to really hold everything in place.
Now use a craft knife or scissors to carefully dig out the center of the cork at the same spot where the corkscrew was inserted. You need a small space around one-quarter-inch deep and around the same width.
Pull away a small stem of a succulent, and gently tuck it in the hole, along with a bit of dirt. You can even use tweezers if you're having a hard time getting things in place.
That's it! Package a few together in a small box, and give to an office mate or keep for adorning your own fridge. And succulents don't require much care, so a little spritz of water every other week is enough to keep them happy!