Sunday Tasks to Complete
6 Tasks to Complete For a Productive Sunday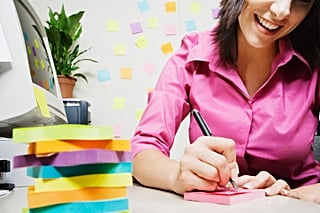 Sunday is the perfect day to get chores done. Friday is reserved from detaching yourself mentally from the work week, Saturday is for mindless fun and catching up with friends, and Sunday is the designated day to complete tasks and prep for Monday. Check out this list of tasks to bump up your productivity today:
Prepare meals: Do your grocery shopping today to prepare your meals for next week. If you're not the type to bring your lunch to work, consider doing it this week to save. Do a little bit of food prep then freeze what you made or put it in the fridge to save for next week. To save money on grocery shopping, don't buy these items at the supermarket.
Check finances: It's always good to check your finances regularly so you know you're on the right track and not in danger of falling prey to overdraft fees. Know how much you have in your savings account and remember to budget for the amount you're going to spend on travel and presents this holiday season.
Make Christmas lists: Speaking of presents, start on your Christmas list today if you haven't already. If you're like me, you'll already be thinking of what to get people for a few months. If you need some inspiration, we have plenty of gift guides for you, including one for what to get your overachieving buddies.
Sign up for Award Wallet: I can't go on enough about how useful Award Wallet is. It's basically a site that organizes your reward points for you and it even sends you alerts when they're expiring. I just received an alert a few days ago for some American Airlines miles that were about to expire. I used them up in the nick of time and saved a bundle on a hotel stay. Take time this Sunday to sync up your reward accounts with Award Wallet and you'll never see your points go to waste again!
File expenses: It's hard to remember to do little chores when you're busy with work during the week days, so file expenses with your company if you have them. Perhaps you're expensing the Halloween candy you bought for the office or maybe it's the professional development class you recently took.
Clear your mind: Start off on the right foot by clearing your mind this weekend. Do some yoga or go for a run today to find some inner piece before the daily grind begins on Monday. Greenery is great for relaxation so if you have the time, go for a mini escape in a nearby park.