Take Back Your Lunch Events
Manhattanites Are Taking Back Their Lunch — Are You?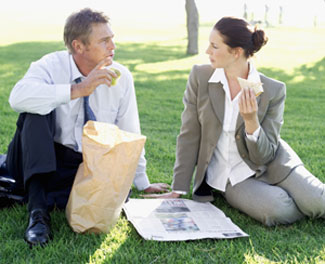 It's a pattern that's hard to break: you hit a productivity slump sometime around midmorning, and by lunchtime, you're way behind. So you grab a sandwich and eat it at your desk, struggling to catch up. Then by late afternoon, you're feeling burned out, antsy, and . . . still unproductive. So what's the solution? In Manhattan, it's a weekly Take Back Your Lunch event held in Madison Square Park.
Started by author Tony Schwartz, the event takes place every Wednesday this Summer, and focuses on getting workers to step away, unplug, and recharge during their lunch hour, in order to feel energized and productive throughout the rest of the day. Sound like something you'd like to put into practice yourself? Then keep reading!
The Take Back Your Lunch movement isn't limited to NYC. Schwartz has also created an organization called The Energy Project, whose goal is to give employees and managers tools and training to become as focused, productive, and energized as they can be. And one way to get there is to use your lunch break as a "renewal break."
If you're thinking about taking back your own lunch, Summer is a great time to give it a try — getting out and soaking up some sun during your breaks will definitely help combat the cabin fever that comes along with being chained to a desk during beautiful Summer days. Think you might give it a shot?