Tax Tips For Engaged Couples
Think Ahead: 4 Tips to Planning For Taxes After You Tie the Knot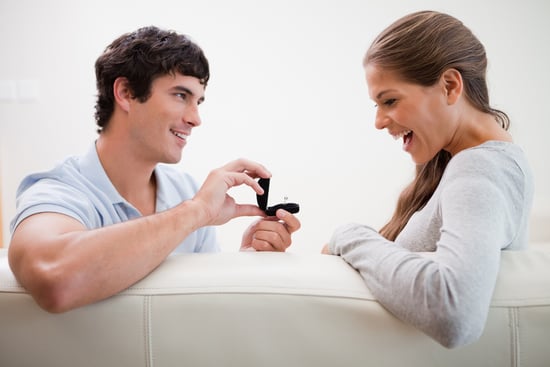 Now that Valentine's Day is coming up, there are bound to be many proposals popping up. In fact, 10 percent of proposals are made on Feb. 14. If you're thinking of proposing on this holiday of love or currently engaged, there are a couple of practical tips you need to keep in mind to plan ahead. H&R Block senior tax adviser Richard Gartland offers advice for soon-to-be newlyweds:
Pick Any Filing Status — as Long as It's Married: "You are no longer eligible to file as a single, even if you didn't get married until 11:59 p.m. on Dec. 31. For tax purposes, the IRS determines your filing status as the last day of the year. A newly married couple has two filing status options, married filing jointly or married filing separately; however, a joint return often results in a lower federal tax. Some couples choose to keep their financial lives separate from their romantic ones, which means they would need to file a separate return from their spouse. Most couples filing separately have a higher tax liability than filing a joint return but may have an easier time attaining some tax benefits. For example, if you have one spouse with relatively high medical bills and lower income, it may be best to file separately. Medical expenses can be included in itemized deductions, but are only deductible to the extent they exceed 7.5 percent of your adjusted gross income (in tax year 2013 this increases to 10 percent of adjusted gross income for those under age 65). If one spouse has very high medical expenses and a low adjusted gross income, filing separately means that spouse could deduct more of these expenses. In contrast, if you filed jointly, your incomes would be combined, making it harder to deduct these expenses. Note: In some states, known as community property states, spouses generally split all income and deductions 50/50. In these states, it may not be as beneficial to file separately. Your tax professional can help you determine whether filing separately can be beneficial."
Read on for more.
Change Your Withholding Allowances on Your Form W-4: "When you get married, you can generally have lower taxes withheld from your paycheck because you have more favorable tax brackets than when you were a single individual. However, if you and your husband both work, in some cases your joint income may put you in a higher tax bracket and increase your total tax liability. You should make any necessary withholding adjustments for the next year by filing a new W-4 form with your employer. Use the withholding worksheet to indicate whether your spouse works and how many dependents you have, which determines the number of allowances to claim and the amount of income tax employers will withhold from your paychecks."
Seek Retirement Plans With Favorable Rules For Married Couples: "IRAs have more favorable rules for married couples filing joint returns. To contribute to an IRA you must have taxable income. If only one spouse has earned income, the law allows the spouse with no earned income to make an IRA contribution based on the earned income of the working spouse provided a joint tax return is filed. Additionally, spouses can inherit IRAs from one another and choose to treat the IRA as their own, which provides more payout options."
Buying Your First Home or Selling One: "Once you get married, your combined incomes may allow you to purchase your first home or you may choose to sell individual homes owned before the marriage. When you own a home, interest you pay on your mortgage is deductible on your tax return as an itemized deduction. If you're married and selling a home, the amount of gain that can be excluded from income doubles from $250,000 to $500,000. Be cautious, though: if only one of you owned the home before the marriage, the $500,000 exclusion applies only if you both live in the home at least two years."