Time-Management Tips
Fresh Start Resolution: Master Time Management
It's a New Year and a new you! We're detailing 12 helpful tips to start off the year right, whether it be to advance your career or increase your financial cushion. We've already given you advice on kicking your daily deal habit, quitting your caffeine addiction, and reassessing your savings account; here's another way to start afresh in 2012.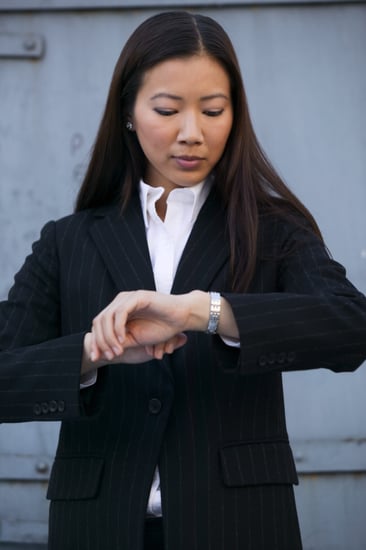 Managing your time not only allows you to be more productive but also frees up precious minutes for you to spend however you'd like. To make 2012 your most organized, exciting year yet, adopt these five helpful habits.
Consider your

to-do list

a schedule. A simple checklist is a great start, but it's important to gauge the time frame for each item, too. Mark each of your tasks with an estimated start and finish time, taking into account any variables that may slow you down. Next, think of ways to make your schedule more exciting. Drawn to color? Use highlighters to create categories. Need some incentives? Brainstorm a mini reward for each task completed, like a phone date with your best friend or a new song download.
Plan ahead and be thorough. It's smart to lay out your exercise gear the night before a morning workout, but take it one step further by filling your water bottle, charging your iPod, packing your purse, and leaving your gym shoes by the door. Other ideas: fill out forms online before appointments and use your phone to snap screenshots of maps or directions. Small steps like these will have a huge payoff, adding several minutes for you to fill as you please.
Read on for more time management tips .
Learn to prioritize. Efficiency stems from an ability to rank responsibilities, so decision-making plays a key role in staying productive. Not a naturally decisive person? Try to consider the impact of each of task and whether someone else is depending on you to get it done. There's a chance that you may not make it through your entire to-do list, so it's important to designate the must-dos vs. the could-dos.
Communicate clearly and often. A crucial part of time management is accountability. You need to be accountable to yourself, your employer, and anyone else who relies on you to complete a task. Learn to negotiate sensible, achievable deadlines and be honest about what you can and cannot do. It's smart to be straightforward, and it's better to admit that you're struggling than to turn in late work.
Be realistic. There are only 24 hours in a day, so know your limits and be practical about your plans. You'll feel better — and less stressed — when you know that your schedule is doable. There will, of course, be extrabusy days when you truly can't get everything done. In those cases, consider asking for help and delegate tasks to save time and energy.
Do you have any great time-management tips? Share them in the comments below!