Tips For Decluttering
New Year, New Things: Places You Should Declutter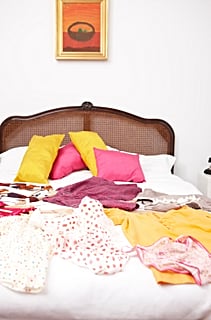 Clutter is expensive, because you spend a lot of money buying and storing it. Having clutter can also emotionally cost you — the sight of things lying around unused or messing up your house may cause you stress. Here are some places you should consider cleaning up:
Closet: I'm sure you have a couple of pieces that you can't fit into or that were in fashion, like, 10 years ago. Start afresh and either sell, donate, or throw them away. Remember, you can help someone out (and get a tax refund) if you give it away to places like the Salvation Army.
Computer: Come on, admit it. There's plenty of stuff in your computer that needs to be thrown out — old word documents, emails, and online coupons you haven't used. Clean up your computer to make way for more memory space, and sell your unused coupons on CoupRecoup. Make sure to freshen up your online accounts as well like Twitter, Facebook, and LinkedIn so you can use them more efficiently.
For more places that could use some January cleaning, read on!
Kitchen: Tone down on the bulk shopping when you're out. Even though it's cheap, buy carefully because you might just be carried away with what a good deal you're getting. Chances are, if you have too many things in your fridge, they're more likely to go bad because you'll either forget about them (because you can't spot them among the clutter) or there are just too many things to consume.
Bookshelf: If you haven't thumbed through a book in years or are not one to reread books, donate them to libraries, sell them on Amazon, or trade them with someone on bookswap.com. Throw them in recycling bins if you don't think they are worth much.
Bathroom: Old nail polish be damned. I'm sure there are lots of cosmetic items that have gone unused for a good while, so either trash it if you've had it for too long or give it away to someone who will use it. Clean out your medicine cabinet and throw out medicine or supplements that have expired.