Tips For Living at Home With Mom and Dad
5 Survival Tips to Moving Back in With Mom and Dad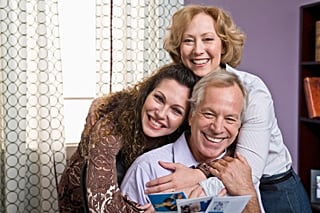 In this tough economic climate and job market, college seniors are experiencing conflicting feelings — the exhilaration of graduating mixed with a mounting dread of unemployment. The lack of job prospects is forcing fresh grads into moving back home to live with mom and dad. In fact, about 85 percent of graduates say they will be packing up to live with the 'rents, according to a survey by Twentysomething Inc., a consulting firm.
Living large with your college roommates in your dorm is worlds apart from the curfew days of the old, so keep these guidelines in mind for a smooth transition:
Share Living Costs: If you're a working adult, you should offer to shill out some money for rent, groceries, and other household costs. Your parents might not expect you to, or even want you to, but you should still offer to help out anyway. It's good to contribute to rent even if you can only afford to put forward a small amount. This is so you'll get a better handle of money and a sense of independence.
Help Out Around the House: If you can't afford to chip in some money because you don't have a job or if you are making too little, try to help out in other ways instead. For example, do chores around the house such as cleaning and cooking, or offer to run errands for your parents. Make sure that your move means that they will have to do less work, not more!
For more tips for a smooth transition, read on.
Talk It Out: The last time you were living at home, your parents frowned on late nights and drinking. Now that you're of age and used to hanging out with pals in the wee hours, you need to talk to your parents about it and establish the fact that you're not a teenager. But remember, it's still their house, so get their approval on what you can do in the house, but what happens outside of the house is your business! Talk about issues that may come up such as friends staying over and potential relationships.
Give a Timeline: Let your parents know what your timeline is for moving out, whether it be days or months. Explain the steps you're taking to get there. This is so there won't be any tension between you and your parents, because moving out is a touchy subject. Be sure to talk about regularly checking in with each other and having open discussions about your progress with finding employment.
Make the Most of It: You may moan and groan about living with your parents, but why not look at the bright side of things. Moving home will give you serious quality time with your parents. When you move out, you're definitely going to spend less time with them than when you were staying at their place, so cherish your time with your parents. Learn some of mom's recipes or simple ways to fix up the house from dad.