Tips For Painting Your Keys
Quick DIY: Stay Organized With Decorated Keys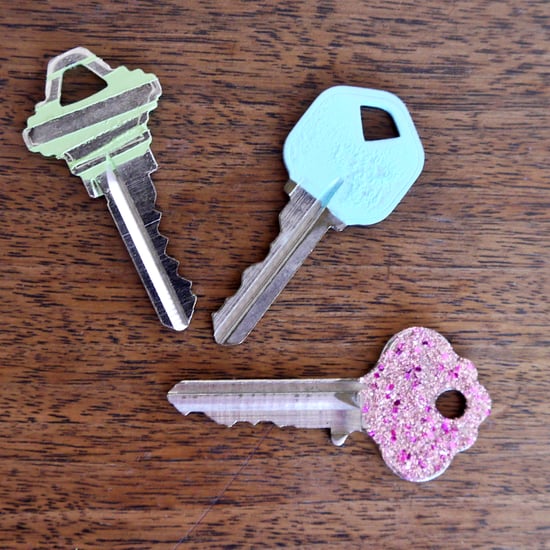 There's nothing worse than standing in front of your front door shuffling through your keys to find the right one. Instead of wasting time (and carrying around boring keys), give them a coat of paint to stay organized and look chic. This life hack tip already caught our attention, so we figured it was a great DIY to try. And even if you're not crafty, you can easily transform your set of keys into a cool and personalized collection. Just make sure to keep a list reminding yourself which color key fits which lock. Here are a few tips for decorating your keys:
Go through your key ring, sorting keys into a pile of ones that are used daily, another pile for those that aren't used as often, and a pile to ditch.
The easiest way to paint your keys is to coat them with fingernail polish. But, while trying this, we discovered that only saturated colors or glitter polishes really worked and that keys needed several coats to be brilliantly shiny. Pick your favorite dark shade or glitter polish, paint the top side of a key, let it dry, and continue coating until you're happy with the results.
Another fun way to paint your keys is by using spray paint, which allows you to get a bit crafty. Use strips of painter's tape to create designs, or even letters on the top of the keys — or simply leave as is for a solid pop of color. Tape the bottom of the key to a piece of cardboard, covering the entire base. Take outdoors and give it a quick spray. Once dry, remove the tape, and you've got a really cool set of keys.
Have you tried painting your keys? Leave a comment sharing which method worked best for you!