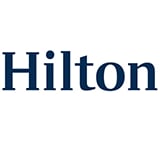 Everyone loves to head out on a new adventure — especially to far-off lands. That's why we partnered with Hilton on this post to help you travel like a pro.
The excitement of jet-setting can be quickly squashed with dramatics when packing. I love to travel but have felt the burn of luggage getting lost in transit — and being separated from a carry-on bag due to a full plane. Your first reaction is to lash out at flight attendants, but it's really not their fault. We reached out to three of them for tips and trips for packing success — and must-have items for surviving long flights.
What do you always bring in your carry-on bag?
The consensus was comfort items and bathroom essentials, with a toothbrush as a must have. A quick brush can leave you feeling refreshed after a long flight. Also a small wrist satchel for holding your cell phone, lip gloss, room key, ID, and some cash. And another attendant always brings her favorite bath soap and scrubby with her so she can be surrounded with her favorite scents no matter where she lands.
Also popular? Eye drops and antibacterial wipes. When flying, you get dehydrated, so eye drops take care of itchy, red eyes. Antibacterial wipes are so handy when you can't get to the bathroom to wash hands. One flight attendant adds, "don't be ashamed to wipe down that tray table, armrests, and even the seat belt handle. You have no idea what the previous occupant of that seat did before you sat down in that seat. Airline personnel clean up the best they can, but a little extra wipe down would be beneficial." And they work double duty as a body refresher too.
What kind of packing tips do you have for passengers?
All three flight attendants agreed that passengers don't realize how so much changes with cabin pressure, which results in lots of leakage from containers. Always put liquids in screw-top containers and enclose them in a heavy-duty bag — or an insulated lunch container. One attendant finds, "Freezer bags are thicker then regular bags and if one of your containers breaks or explodes, no problem, just rinse all the tubes off." So true!
Another big tip? Think about packing anything that might explode at the front of your carry-on suitcase. Place a towel over the top of your clothes and then put toiletries in a baggie. After you've gone through security, pop the items on top of the towel and zip up your luggage. The towel keeps your clothes safe from potential mess — and you can use it as a yoga mat in your room later.
And you can get smart by making a chart with the days you'll be gone along the top. One of the flight attendants we chatted with suggests to "divide each day with lines up and down the paper. Underneath, write down what you will be doing that day and what outfits you will need. Then you won't forget anything."
What do you wish passengers knew when flying?
All three of our flight attendants agreed that packing smart is key. Rolling clothes takes up less space and means fewer wrinkles upon arrival. And one flight attendant continues, "I wish passengers knew not to bring more than two bags on the plane. If they have a bag that fits under their seat, put it under there! If you stow both bags in the overhead, other people won't have space for their luggage. It creates problems for everybody and can delay the flight."
And It's so important to keep essential items in your carry-on bag so they're always with you. Items like your keys, medicine, cell phone, charger, and all hotel, car, and air ticket information is a must.
More from Hilton
Use these tips to get you get closer to the experiences that bring you close together with Hilton @Play. Learn more.