Now that it's almost 2016 [1], it's time to get rid of your calendar from 2015 . . . but it seems like such a waste to throw away quality glossy paper with pretty pictures, right? So don't! Upcycling [2] the pages into usable objects is a good way to reuse your old calendars. Here are a few suggestions.
Gift Wrap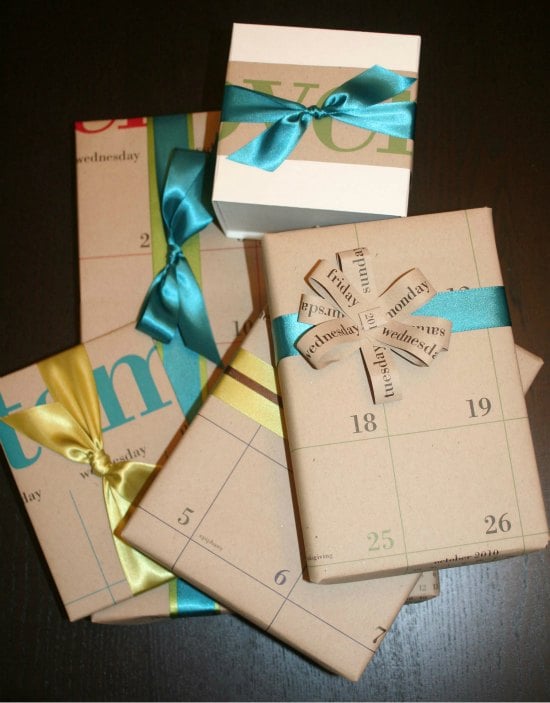 Take the old calendar pages, and turn them into gift wrap. Here's how to properly wrap a gift [3].
Envelopes
Create cute envelopes from calendar pages to stuff with greeting cards, documents, or money. Check out this tutorial on how to fold an envelope [4].
Notecards
Stick the calendar pictures on cardboard to create pretty notecards, which you can send to friends.
Magnets
Use the pictures to make magnets for your fridge. Here's a tutorial on how to make picture magnets [5].
You can even use the numbers and create magnets with them to make your own magnetic calendar [6].
Paper Beads
Roll up your calendar pages to create fun paper beads that you can string to make necklaces and bracelets. Get the instructions here [7].
Jigsaw Puzzle
If there are cool graphics on your 2014 calendar, consider using one of them to create a jigsaw puzzle. Here's how to make a jigsaw puzzle [8].
Gift Bag
Fold your calendar pages into a unique and eco-friendly gift bag. Here's how to fold a gift bag [9].
Framed Art
Frame up some of the prettiest calendar photos for your home.
Origami Fold your old calendar pages into cool origami like cranes or lucky stars. Use the origami pieces as decor for your home.