Valentine's Day DIY String Art
Get Crafty: Valentine's Day String-Art Wall Hanging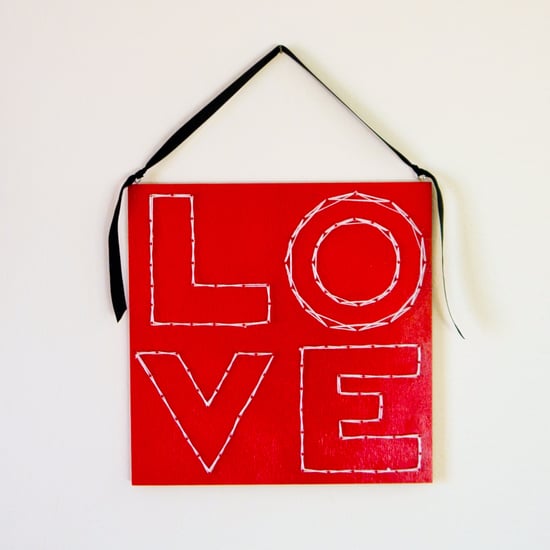 Spread your love around on Valentine's Day with this totally mod string-art wall hanging that's easier to make than you think. With the help of nails, a board, and a bit of red spray paint, you're on your way to a really chic-looking piece of art that will brighten your home or make a really special gift for someone special. And this DIY costs around $10 to make, making it as reasonably priced as a deluxe box of chocolates — but much more personal.
What You'll Need:
12-by-12-1/4-inch birch plywood
Ruler
Pencil
Small bowls or round containers
Magazines
1/2-inch wire nails
Hammer
Red spray paint
White yarn
Eye hooks (optional)
Ribbon (optional)

Directions:
Gather your materials and think about how you'd like your big letters to look. You can write the letters in cursive or large block letters like I did. If you're not comfortable free-writing your letters, you can also print large block letters from your computer and use them as stencils.
Start by dividing the 12-by-12-inch piece of plywood, which you can find at your local craft store, into four equal sections using the ruler. Press lightly using a pencil to create guidelines for your artwork. I made darker lines so they would be easier to see for these directions. Now use a ruler to form block letters around 1-1/2 inch wide, which will fill each of the four sections. To create the "O" lightly trace around a small bowl and then another for the inside of the letter.
Once finished creating the letters, place a few magazines under the board, and tap in the nails, beginning with the corners of each letter. Then fill in the edges with nails spaced 1/2 inch apart. For the "O," evenly space the nails around the inside and outside edges of the letter, making them slightly closer together on the inside of the circle.
Find a safe spot outdoors to spray the nailed board, giving it a light first coat. Once it's dry, give the board a heavy second coat, ensuring the pencils lines are covered. Let the paint dry for at least an hour before starting the next step.
Cut a 3-foot length of string, tie it around the top left nail of the "L," and begin winding it around the perimeter of the letter, moving in and out of the nails. Knot the string once it's gone around the letter two to three times, tying on extra string as needed.

Continue working until the rest of the letters are complete. Trim any loose lengths of string as needed.

Now you can position the finished LOVE string art on the mantel or screw small eye hooks at the top of each corner and use for tying a length of ribbon.

Find the perfect spot for hanging your new wall art, or give it to a special someone on Valentine's Day.