Wedding Savings Tip
A Wedding Cruise Could Be a Boatload in Savings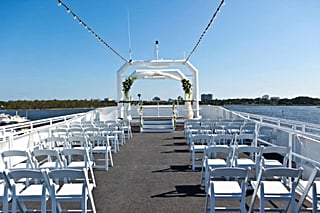 Looking for a way to cut wedding costs? Head out to sea! Seriously, couples who opt to tie the knot aboard a cruise could be saving a boatload of cash. No wonder so many people are doing it! According to the Cruise Lines International Association, cruise weddings have increased by 60 percent over the last decade, and some 2,200 couples are expected to marry at sea this year.
Sure, cruises have always been a popular choice for cheaper getaways, but with pricing from $1,195 for a basic civil ceremony to $1,795 for a "deluxe romance package [that includes] a one-and-a-half-hour reception and a celebratory ice carving," a nuptial cruise is a wedding bargain too. Shipping out overseas is also a much cheaper way to score on a destination wedding. Norwegian Cruise Line will perform an onshore wedding near a romantic destination, like a Venice canal, for $2,450. Another benefit to consider is that food's included in the price of the cruise, so forget spending on a caterer.
To weigh the pros and cons of a wedding at sea, just read more.
Still, there are some downsides to ponder. For one, consider the fact that after the wedding, you may have family and friends still on the boat. So, depending on how long the cruise is and what your plans may be, your relatives may be joining you on the honeymoon. Additionally choosing an international port for the marriage ceremony can prove tricky for the couple if there's a waiting period for an application, which can sometimes last up to 10 days. All in all, taking your wedding aboard your very own love boat can save you big. Just make sure that you're paying as much attention to the ceremony details as you would if the wedding was taking place in your own backyard. Just because the cruise provides food and drink, doesn't mean they've thought of everything, so as the savvy bride, make sure you do.
If you've got any of your own cost-cutting wedding tips be sure to share in our How Do You Save? group.