What Is Being a High School Teacher Like?
In His Shoes: Dan Brown, High School Teacher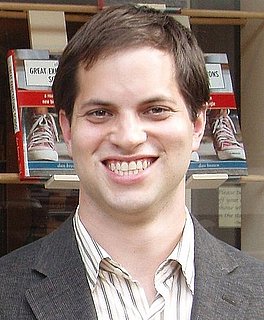 If you think long and hard about the people who made lasting influences in your life, I'm sure several teachers will pop up. It's funny how no matter how many years go by, I still remember the one or two encouraging statements from teachers that have changed the course of my life. Dan Brown, a high school teacher in Washington DC and author, is empowering lives every day, one student at a time.
SavvySugar: How did you get into this?
Dan Brown: Well, I first became a teacher straight out of college in 2003. I got into it sort of by accident, I was in film school at NYU. I wasn't studying to be a teacher. As I was nearing graduation, it became clear that if I wanted to stay in New York City and pay the rent, I needed to get a real job. At least for the next few years. So I joined a program called the New York City Teaching Fellows, which is like Teach For America where it takes people who don't have a background in education and gives them a provisional certification. It basically throws them into the toughest schools where there are shortages of qualified teachers. So this appealed to me because my mom was a teacher, and I was always interested to work with kids. This was also about a year and a half after 9/11 so I was feeling very interested in doing something for New York. So I signed up, and it was the toughest year of my life, but also opened my eyes to how rewarding and thrilling being a teacher is.
To hear more about why teaching is rewarding, read on.
SS: How do you deal with stress?
DB: There is no question that the burnout rate is really high, teacher and the turnover rate is really high. And it's tough because it's a big issue on a national level and we really need to develop people into good teachers which means having people stay so dealing with stress is really important. For me I took one year away from the classroom to regroup, so I needed that. But during the school year you develop a camaraderie with your colleagues. You have to. Otherwise, you feel totally isolated, and the burnout is really accelerated. I formed some really close friendships and great professional relationships with a few of the teachers in the school, and we were able to share good practices with each other and help pick each other up and that was invaluable. So that support coming from the other people in the trenches with you is really important.
SS: What's the most challenging and rewarding aspect of your job?
DB: Both are related to working with young people. I love it, but it's an extraordinary amount of responsibility, and it's really relentless. The school year is epic and fraught with conflicts and lots of hills to climb, and there are inevitably setbacks and there are miraculous turnarounds and second chances too, and you witness the growth over a long amount of time. So even though it can take a long time, quite often you never really see the impact you have, you just sort of have to have faith, but just spending your days working with young people is excellent, I love it.
SS: Any advice for people who are thinking of becoming teachers?
DB: I would say it's a great job that is never boring, ever. Though it is incredibly hard, and at times lonely, I would recommend talking to anyone you know in your circle of friends and family who are teachers and ask them about their experience for some more depth. If you are taking the steps to becoming a teacher and you get to the point where you're looking for a job, I would really check out closely the principal of the schools. If you're being interviewed for a job, you're also interviewing them. Working with a great principal and a great school leader makes all the difference, because working for a bad one or one that you don't jibe with, can be a nightmare. And lots of would-be great teachers burn out because they feel that they are stuck in schools where they are isolated or under appreciated because of school leaders that they don't get along with
SS: Lastly, how do you feel sharing the same name with The Da Vinci Code's author?
DB: At first it was pretty surreal when I would ride the New York City subway and basically everyone would be holding big hardcover books that had Dan Brown in huge letters on it, but now I've kind of gotten used to it. Although I'll never have his money or fame, I'm OK with it.
For more about Dan and his book author, you can visit his website at danbrownonline.com