What to Bring to a Rental Open House
Apartment Hunting? Here's How to Bring Your Game Face
These days, apartment hunting almost seems as cutthroat as The Hunger Games. To be sure you have everything going for you and to increase your chances of sealing the deal, there are certain things you should have on hand. We're not just talking checks here! From contacts to contracts, these essentials should be in the hands of every apartment seeker when heading to an open house.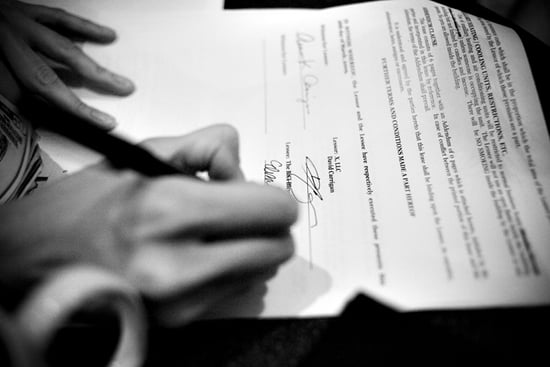 Cover letter: If you're looking to rent in a tough market like San Francisco or Manhattan, be ready to sell yourself with a cover letter. Similar to a job application, a cover letter allows you to introduce yourself and personify your application. This is your opportunity to stand out among other applicants and explain why you want the place to be yours. Although it's important to be professional, don't be afraid to let your personality shine through.
Completed apartment application: The secret is out! Don't wait for the leasing agent to hand you the application — instead find it online. You can find the California renter's application here and other versions searching your state. Even if that exact version is not the one the landlord wants, it's a great outline to help you gather all the information you need. Having addresses, phone numbers, and contacts in one place will make it easier come deal time.
Copy of a photo ID: A photo ID is the best way for an agent to verify your information. Having a copy on hand will make the process faster and show you are prepared. Consider scanning a copy into your computer, too, for email purposes.
Credit report: Be one step ahead of the landlord by having your own credit report ready to go; you can access a free credit report here. It's likely they will also run a separate report, but this will give them a good gauge of what to expect and if you meet their needs.
Pay stubs: Have a job? Prove it! Have copies of your last two payments ready to go.
Your checkbook: This is the most obvious and the most important. A check will be needed to pay for the credit report and the initial "down payment." Sometimes this could mean the first and last months rent, or it could simply be a deposit equal to 50 percent of one month's rent.