What's a Good Souvenir to Get?
Waste Not, Want Not With Money-Saving, Souvenir-Picking Tips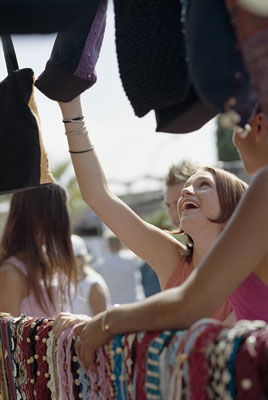 Memories last long after you land, but, let's face it, cool souvenirs keep trips in the forefront of your mind . . . so neither are collecting dust! While some people choose items emblazoned with the location visited, others intentionally do not. Personally, as long as I remember where I picked it, that's good enough for me. It never hurts to plan ahead to spend smarter on your next trip.
Before you go:
Do your homework. Researching what your destination is known for can help to settle on a souvenir. If the area is famous for a particular delicacy or craftsmanship, competition creates better deals and more selection.
Sharpen the price point. Just as you budget out for flights, hotels, and meals, set aside money for a souvenir or come up with a spending limit. You don't want to blow all your extra cash on one thing and survive off of peanuts and pop for the rest of the trip.
Get three more tips for picking out the best stuff after arrival and
.
Once you arrive:
Think finders keepers. It's not necessary to spend a ton of money on something great. For example, picking a simple shell (if permitted on the beach) can be a sweeter reminder than any costly item!
Make yourself useful. If you need something at home, and enjoy labeled souvenirs, a potholder or mug allows you to snuggle up with trip memories once back in your own cozy kitchen.
DIY collector's items. Picking a small, themed item to collect on each journey can give you a goal, help to set price limits, and create a collection. While my parents choose works of art, I rarely return from a trip without buying an accessory for my jewelry case!