What Is Occupy Wall Street?
What Exactly Is Occupy Wall Street?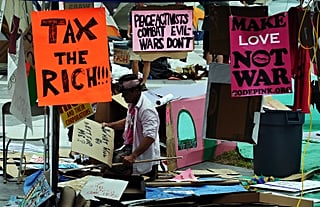 You might have heard about Occupy Wall Street, a nationwide movement spurred by the frustrations that many hold about the economic state of this country. The protesters are unhappy about a number of issues. Mainly, the great disparity between the wealthy one percent versus the 99 percent of the general population and the fact that banks weren't held accountable for their actions that brought about the global meltdown. Here are a few quick facts to get you up to speed:
When this started: They first marched onto lower Manhattan on Sept. 17 and have been camped out there ever since.
Who they are: Occupy Wall Street is the "leaderless resistance movement" that's headed by Adbusters, an activist magazine.
Why it's gaining momentum: This movement is gaining momentum because of the widespread dissatisfaction among the general public that's spurred by the high unemployment rate, foreclosures, and other money woes caused by the recession. The appearances by various high-profile people like Michael Moore and Kanye West at the protest sites have also raised the movement's visibility in the media.
How to contribute: If you want to get involved in the movement going on in your city, check out OccupyTogether.org for listings of the meetups. Occupy Wall Street is also taking donations through this link.
What they want: The group as a whole hasn't really decided on a specific demand and doesn't have a long-term strategy or goals as of yet. Basically, they are just trying to voice their frustrations through peaceful demonstrations. However, it appears that each individual protester does have certain demands in mind. For a quick look to see what some protesters are asking for, watch the video below:
Do you support Occupy Wall Street?