What Stores Participate in Free Shipping Day?
Last-Minute Shoppers: Take Advantage of Free Shipping Day Today!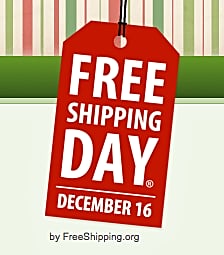 If you're still not done with your Christmas shopping, don't despair! Free Shipping Day is today. It's basically a 24-hour window in which about 2,599 retailers offer complimentary shipping for customers with guaranteed delivery by Christmas eve. Stores like Target, Nordstrom, L'Occitane, Bloomingdale's, and Victoria's Secret are participating in the offer.
Although this seems like a great deal, you may want to factor in the reliability of the retailer. Deal News named a couple of stores that are notorious for their late shipping:
Best Buy
Meritline
JCPenney
DeepDiscount
Kohl's
Shoebuy
Newegg
Reebok
Kate Spade
To be on the safe side, you might want to avoid ordering gifts from these stores. Remember to also check out the website of each retailer and read the restrictions or minimum purchase requirements before you buy something.