When to Get Engagement Ring Insurance
Ask a Savvy Bride: Should I Get Ring Insurance Now or Wait?
Your special wedding season Ask Savvy questions will be answered by SavvySugar and a very savvy bride. Submit your questions in our Ask Savvy group.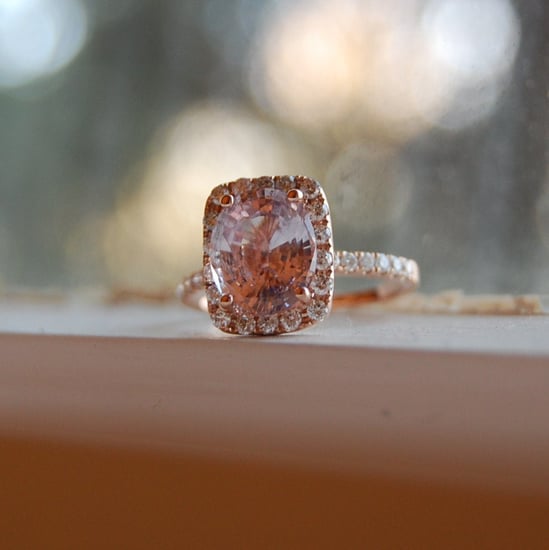 Dear Savvy,
I just got engaged to the love of my life and I'm ecstatic! My ring is blinging and I adore it. It's everything I've ever hoped for and I never want to take it off. My best friend is hounding me to get ring insurance, but I'm worried about the cost because I don't have any extra funds. My fiancé saved up for a long time for the ring, and though I don't know how much he spent, he's admitted he wiped his savings. Can I wait a while until we have more cushion cash to get ring insurance, or should I get it now no matter the cost?
Best,
Blinging-but-budgeted-to-be
See what the savvy bride has to say about this after the jump.
Savvy bride says:
First off, congratulations on your engagement — it's such an exciting time; enjoy it! Now that you have the man and the sparkler of your dreams, I have to agree with your friend: getting ring insurance is a must. Although it is an added expense, it's worth every penny just in case your ring gets stolen, damaged, or lost. In other words, to protect your fiancé's hard-earned money and your attachment to the ring, it's better to be safe than sorry.
Your first step is getting the ring appraised. If your fiancé doesn't want you to know the specifics of how much he paid or how much the ring appraises for (that cost can differ depending on if the ring was purchased retail or wholesale), you can ask him to take the ring to a certified gemologist himself to get the paperwork written up. Once you get that information, you have two options for insurance policies. If you already have renters' or homeowners' insurance, you can get a "rider" or a "floater" on that policy, which will solely cover the ring. If not, you can ask your jeweler or any insurance broker if they offer policies on specific items of jewelry. In both cases, ring insurance typically costs $1 to $2 for every $100 it would cost to replace per year (depending on where you live and the size of your rock of course), but be sure to shop around for the policy that best fits your needs, and remember to ask about deductible costs in case your ring actually does have to be replaced or repaired.
While I hear that you'd ideally like to save a little more money before committing to insurance, it shouldn't be too difficult to rationalize the cost of coverage compared to the possible cost of replacing the ring out of pocket. Congratulations again, and good luck!
Ask anything budget-, etiquette-, or planning-related — well, almost anything — by posting your questions in the Ask Savvy group, and I'll find the right expert to help you out.
Source: Etsy User EidelPrecious