Window Dresser
In Her Shoes: Window Dresser, Meghan Lorenz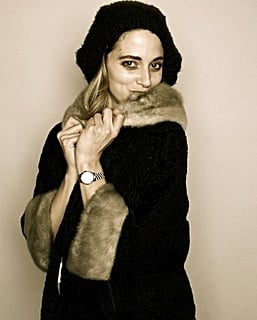 The holidays are here and there's no better job that captures the Christmas spirit than dressing windows for the season! This week's In Her Shoes crown goes to Meghan Lorenz, a Chicagoan who styles windows for a living.
SavvySugar: What's your style like?
Meghan Lorenz: It's very reminiscent of the things that inspired me as a child. I love iridescence. I love glitter. I like using cardboard and building things. Honestly, my style reminds me of Barbie's clothes and Care Bears. I'm trying to have it evolve a bit, but it is kind of young. You know I like making pastries and foam installations which is why I like bakery jobs because they are very playful. So my style is very playful and it's feminine also. I love pinks, I love sea foam green.
SS: How did you get into this?
ML: Originally I was planning on doing costume and set design so I moved out to LA when I was 18. I planned on doing that, and I started working at Fred Segal so I started working more with fashion and I realized that window display would be a great way to incorporate art and fashion. That's sort of how I got into it and as a kid my favorite movie growing up is Mannequin, and I've always enjoyed window display so it kind of made sense.
To find out more about her job and see pictures of her lovely holiday windows, read on!
SS: How do you get your jobs?
ML: I work for Eskell, a boutique in Chicago. I'm actually the store manager, and I do window displays for them and someone from Time Out magazine recognized my work and wrote a story about me, which was really helpful and helped me get a lot of jobs. I get jobs through that. I did a lot of free work, too. I'll walk into a place and say I'll do your windows for free, just to have free reign, to be creative, and kind of do my own thing.
SS: What's the downside of window dressing?
ML: When this was my full-time job, it was really hard. It was really inconsistent. One thing that's hard is that with window dressing, people often associate having free reign and making work that's your own and a lot of times you don't get to do that when you work for other people, because you're still working for other people. So that's one thing — making displays that you don't really care about or that you don't really like as much which means you're not as passionate and the outcome isn't as good.
SS: How important are the windows to the store?
ML: I think it's the most important thing, I really do. If you get someone to come into your store because of the display, there's a 50 percent greater chance of making a purchase which is better than nothing at all. It's the first impression that anyone has on your place and the way you represent yourself off of that is really extremely important, and I've seen too many places that don't care about their windows, and it's a waste of space.
SS: What kind of windows attract people?
ML: I don't think less is more when I do windows, I think more is less. I like lots of stuff. I like them to be very dramatic, but that's me. [My friend] Lindsay is amazing, and her windows are so minimal, and I look at that and think that's beautiful, and I would totally go into a store with minimal windows. I think it depends on the person and the aesthetic, but I think initially being obnoxious really grabs people.