Wine Glass Holiday Dioramas
Let It Snow With Dollar-Store Holiday Dioramas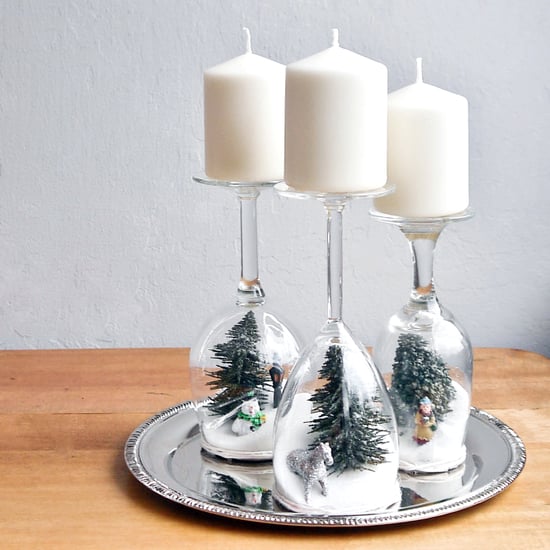 Head to the dollar store and pick up a collection of wine glasses, a box of sugar, and a few kitschy holiday figurines — or even plastic ornaments — for making these easy holiday dioramas. And if you've got a young friend or relative, you can even make one together with a plastic bottle with really cute (and safe!) results. The finished decorations look lovely adorning your holiday table or mantel topped with dollar-store candles.
What You'll Need:
Wine glasses in various sizes
Cardboard
Pen
Scissors
Hot glue gun
Small plastic trees, figurines, or ornaments
Sugar
Superfine silver glitter (optional)
Ribbon or string
Candles
Directions
Create the base for the dioramas by placing the glasses upside down on cardboard and tracing around the outside edge. To make one for your young friend, cut a clear plastic bottle in half, and use the bottom end just like the wine glass. Cut out the rounds.
Fire up your hot glue gun, and start arranging any small figurines or decorations. You can even pop in a few glittering plastic animals for a sparkling diorama.
Once the glue has dried, place the wine glass or bottom of the plastic bottle over the base to make sure everything fits. Now remove the base, flip over the wine glass or plastic bottle, and pour around one-fourth cup of white sugar into the glass. Add a sprinkle of glitter for a sparkling touch.
Replace the base of the diorama, nestling the glued figurines into the sugar until the base is level with the edge of the glass. Secure with hot glue.
Finish with a length of ribbon or twine for a cute look. Flip, and enjoy the cute snow-filled diorama. If using wine glasses, top with candles, and you're ready to decorate.
Enjoy on your holiday table, on a mantel, or scattered around your home for a fun, festive look! And your plastic diorama is safe for any youngster to shake and enjoy over and over.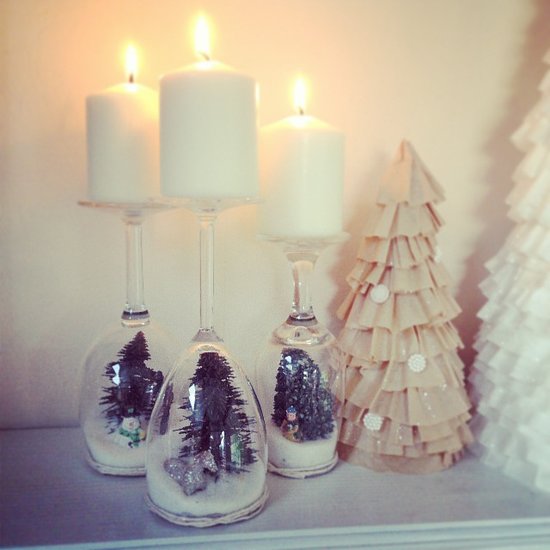 Image Source: POPSUGAR Photography / Sarah Lipoff