Working and Weight Gain
Have You Gained Weight at Your Current Job?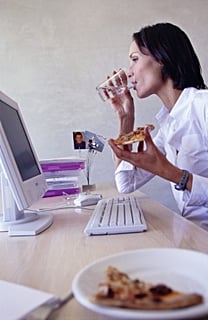 Sitting around all day staring at the computer screen is inactivity at its best, but it's something that's inevitable once you're working the daily grind. I was clicking through Business Insider's depressing list of 15 Seriously Disturbing Facts About Your Job when I spotted this interesting fact. Almost half of Americans have gained weight at their current job. Out of those who put on weight, 28 percent gained more than 10 pounds and 12 percent gained over 20 pounds.
The working world has a lot of factors that contribute to the extra poundage — work stress, inactivity, less time and energy for working out, eating out for lunch, to name a few. So tell me, have you gained weight at your current job?