Would You Ever Try These Excuses From The Office?
Is there anything we can't learn from the staff of Dunder-Mifflin? By watching their crazy and hilarious antics, we have learned critical lessons about in-office relationships, holiday gifting, party no-nos, and etiquette. And now this team of moderately enthusiastic, averagely achieving employees keep giving and giving; here's a list of work excuses they've used in seasons past (to be used at your discretion!).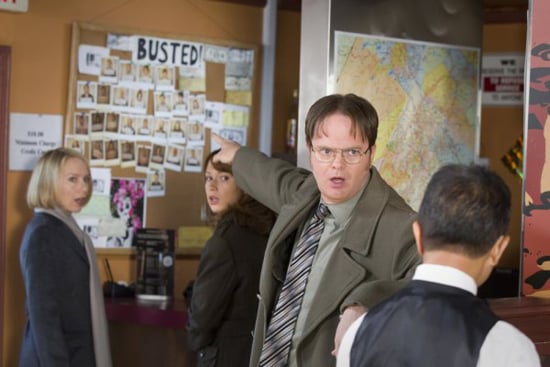 To avoid a work-related phone call:
Civil rights rally
Stopping a fight in the parking lot
An Obama fashion show
Trapped in an oil painting
Colonoscopy
- all courtesy of Michael Scott
To avoid a work lunch (especially at Benihana):
"I'm not feeling so well. I've got a ton of work to do here. MSG allergy. Peanut allergy. I just ate there last night . . . doctor appointment, car trouble, plantar warts, granddad fought in World War II." - Ryan
To avoid office humiliation from falling into a koi pond:
"Well Jim and I got caught in a little flash . . . rain. Flash winds. Flash lightening." - Michael
To avoid or leave an office engagement early:
"You'll never guess. I just got a message from my landlord. Apparently my apartment flooded. Something with the sprinklers." - Jim
"Oh, we wanted to, but our sitter just fell through." - Pam
"Uh, no, thank you. Last time I went to the theater, a man dressed as a cat sat on my lap." - Dwight
While I would never use a colonoscopy as an excuse, an absent babysitter sounds solid . . . assuming you have children, of course. So tell me, would you use any of these excuses or have any you'd like to share?