7 Airlines With Luxurious First-Class Perks That Are Out of This World
Warning: we're about to run through the swankiest and most luxurious first-class cabins in the world. While many people find it hard to justify the added expense (and understandably so!), the perks really have come a long way from simply lie-flat seats and silky eye masks. We're talking about on-board apartment suites (larger than my entire Manhattan apartment), spa treatments, Michelin-star dining, postboarding limos, and private jet access. Read on to see the top airlines that the uber rich or million-milers are flying across the globe. There is just one problem, though: you will never want to fly coach again.
01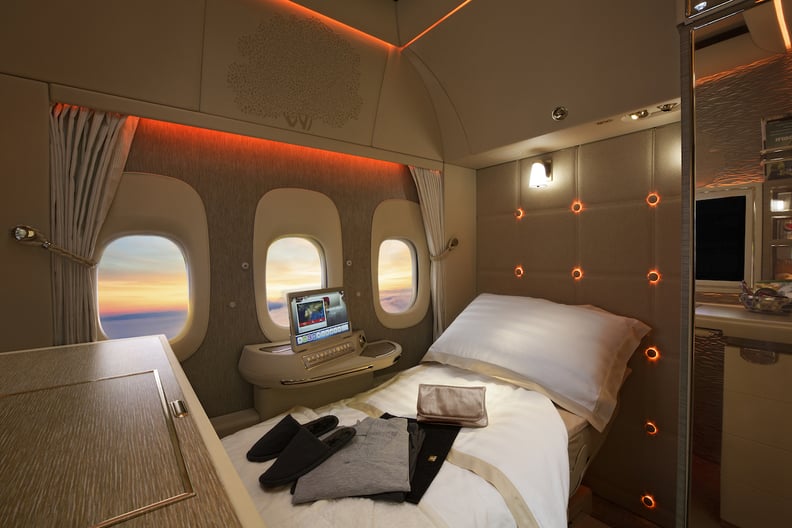 Emirates
While caviar and Dom Pérignon are generally reserved for special occasions, you will find them a given as part of your Emirates first-class experience. Welcome to the Emirates first-class suite, fully loaded with personalized cuisine and extras, such as high tea and hors d'oeuvres, in the on-board lounges (Airbus A380 only).
A fully flat bed with a mattress is peanuts to the Emirates first-class suites; expect a fully equipped suite with a sliding door; personal mini bar; ambient lighting; and personal vanity, mirror, and wardrobe dresser. To aid in your perfect night's sleep to wake up refreshed, Emirates introduced and provides the world's first moisturizing loungewear, which uses Hydra Active microcapsule technology to release moisturizing sea kelp directly onto your skin, essentially to keep you ultra hydrated while on board.
Oh, did we also forget to mention the best part? Showering at 30,000 feet in the shower spa with everything from heated floors to flowers, along with your take home of luxury amenity kits that feature Bulgari products in four separate designs per gender category. Don't worry, economy class — Emirates also has the world's first interactive kit using augmented reality pouches made from neoprene to be purposely reused postflight.
02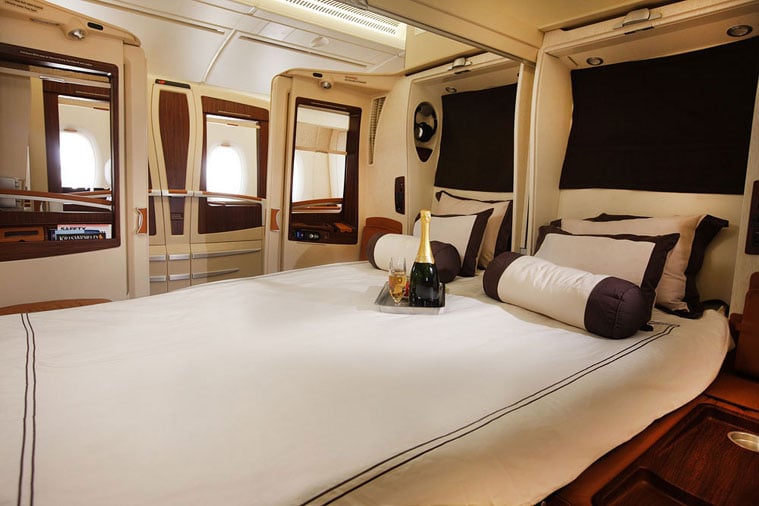 Singapore Airlines
Singapore Airlines unveiled a new luxurious series of first-class suites in November 2017 after being the first airline to introduce a lay-flat double bed (you can lay side by side with your companion!) in its Suite's Class. Let me repeat that again: a double bed at 30,000 feet.
Each suite has its own Poltrona Frau leather armchair that is 21 inches wide and reclines up to 135 degrees — so essentially a La-Z-Boy. While Singapore Airlines already had its share of mile-high accolades, it is now partnered with French luxury brand Lalique for the most peaceful sleep in the sky. The airline's flight attendants are dressed in a Balmain Kebaya and are a symbol of hospitality and luxury service soaring high above the clouds. Oh, and forget black coffee with milk; Singapore Airlines can accommodate cappuccino requests, and you can even choose from various types of coffee. Think of this as simply a hotel suite in the sky.
03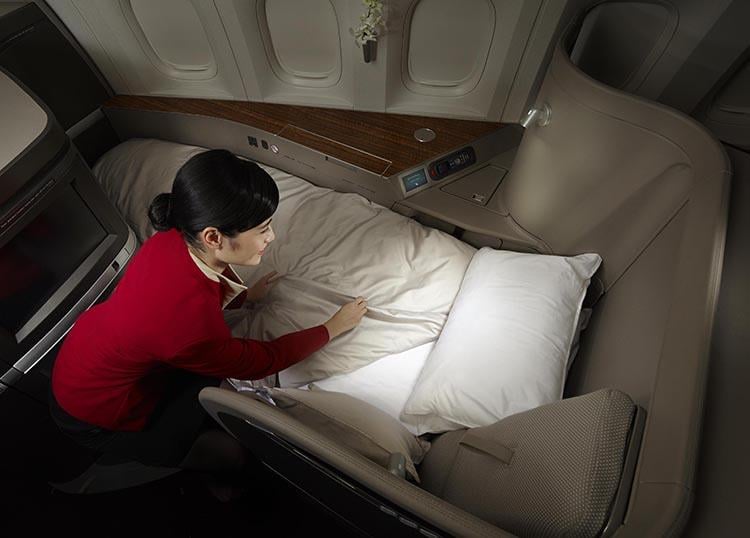 Cathay Pacific
It's a lot like Christmas Day when boarding Cathay Pacific's first-class cabin with the amount of treats and goodies you are handed, including Krug Champagne, an amenity pouch filled with Aesop products (have I mentioned that they are one of my favorites?!), pajamas, and Bose noise-canceling headphones. Everything is "on demand," so if you want caviar at 3 a.m. or dim sum at 9 p.m., the answer is always yes.
The meal table is adjustable, so you can sit face to face with your travel companion while dining on flavorful roast duck noodle soup and steamed veggies. When it's time for some shut-eye, expect to slip into your lie-flat, 500-thread count duvet, pillow, and mattress. Talk about a serious turn-down service.
04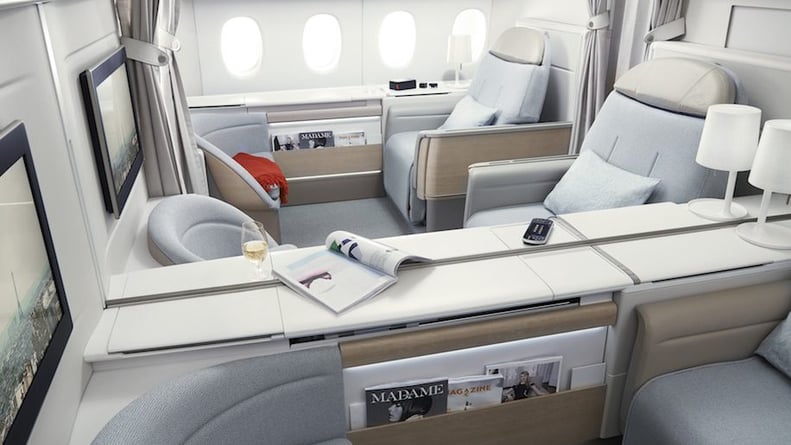 Air France — La Première
While it is sometimes impossible to get reservations on the ground at Michelin-starred restaurants, fret not, because La Première on Air France lives up to the hype of classic French cuisine, inviting Michelin-starred chefs every three months to design the menu for its guests.
Some mouthwatering dishes have included Atlantic lobster, foie gras, and fillet of quail, paired with wines selected by Paolo Basso, who was voted the world's best sommelier. In addition to food, the French are well-versed with their beauty routines, as is La Première, whose amenity kits include products such as moisturizing hand crèmes and rejuvenating eye patches by legendary French brand Carita Beauty Institute Paris.
On the ground, if you happen to be leaving from JFK in New York or Charles de Gaulle in Paris, La Première guests can book complementary mini 30-minute spa appointments with Biologique Recherche and Clarins Spa and hydrate properly preflight. Get your beauty sleep on your memory foam Sofitel MyBed duvet, along with extrafluffy down pillows, and wake up perfectly refreshed and fresh-faced.
05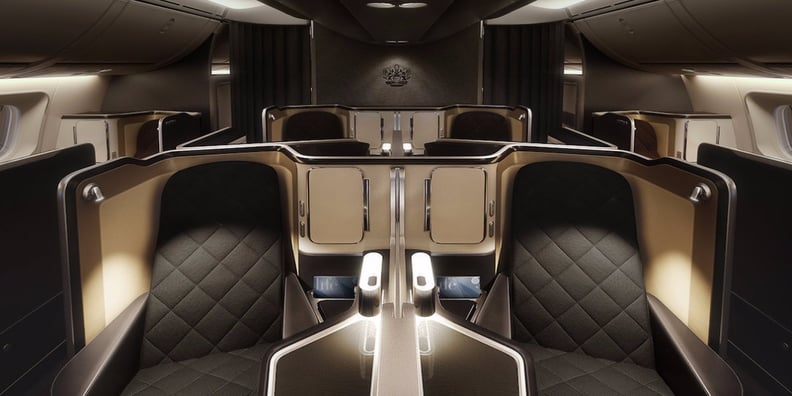 British Airways
The British Airways first-class experience on the Boeing 787-9 Dreamliner starts right as you pass through security at Heathrow's Terminal 5. Instead of turning directly into tourist-trap shops, you turn immediately into the first-class lounge, the Concorde, which has the feeling of a five-star hotel. When it's time to board, it's the bigger the better on board the new 787-9 Dreamliner, where guests are greeted with three different Champagne options.
You can tell the flight attendant what size you are for your pajamas, which come in an Anya Hindmarch pouch along with aromatherapy and proper slippers. For your entertainment purposes, you will find a 23-inch screen (I think that's bigger than my college dorm TV!) to watch movies or play games, along with seats that turn into completely flat 198-cm beds, complete with duvet and pillows. There is plenty of storage for all of your personal items as well as cables and plugs to charge up your electronics.
Since the Brits are famously known for their delicious high tea, expect the same at 30,000 feet, where fliers can enjoy tea sandwiches, mini cakes, scones, clotted creams, and various jams. And if you head to the bathroom to change into your PJs, you can expect turn-down service to greet you with a delicious little chocolate on your pillow.
06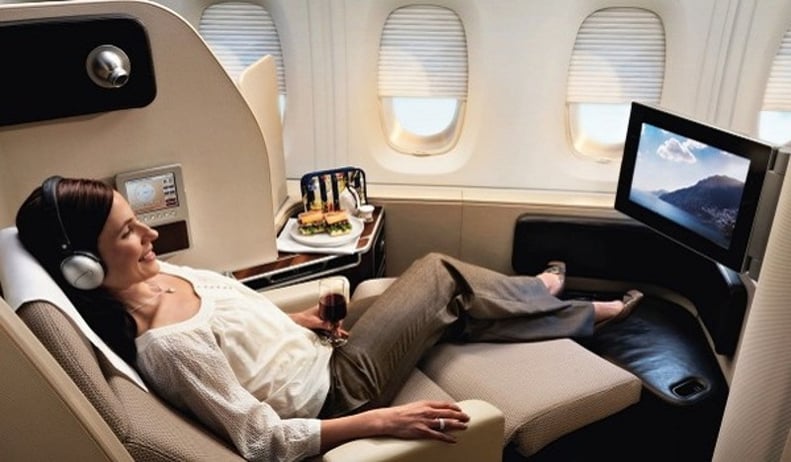 Qantas Airways
Airlines are pushing for their first-class passengers to be relaxed even before reaching the luxe accommodations on board the aircraft. Prior to takeoff, guests flying Qantas can enjoy being pampered at the Aurora Day Spa, situated inside the airline's designated lounge at flagship airports.
Once on board, the "jumbo pods" designed by Australian design legend Marc Newson have a pullout bed, amenity kits, a personal 17-inch television, and an ottoman — talk about a mini hotel room in the air! When it's time to turn down, you will find the bedding service providing guests with pillows, a duvet, and a sheepskin mattress . . . you know, for that deep sleep. For those who like bubbles, Veuve Clicquot or Taittinger Champagne are free flowing and pair nicely with the caviar and lobster puffs.
07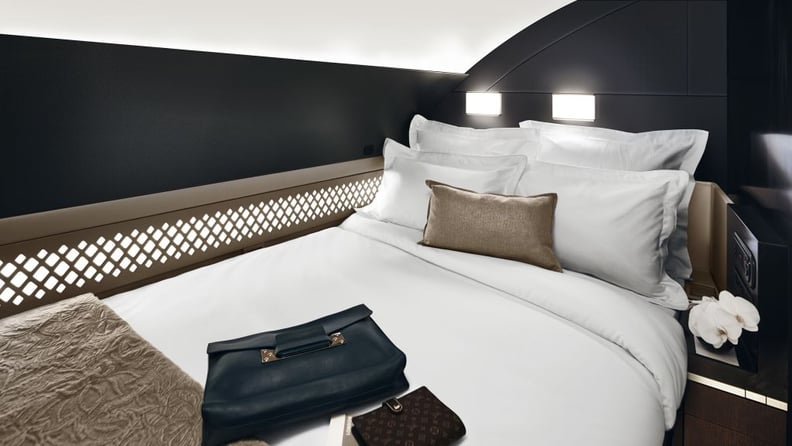 Etihad — The Residence
For a whopping $41,000 dollars round trip from NYC to Abu Dhabi, Ethihad Airways continually tops elite travel lists . . . and for good reason. The ultraprivate three-suite room features a double bed with Pratesi linens, a 32-inch monitor, a separate en-suite shower room, and a dedicated butler.
To truly enjoy those Pratesi linens and get some shut-eye, be sure to take advantage of the flying nanny, who is dedicated to providing a helping hand and creating some fun memories and games for the little ones. Prior to takeoff, guests are contacted for dietary restrictions and preferences, but it doesn't stop there. A private on-board chef creates special made-to-order dishes that are served on 24-karat gold-plated porcelain tableware and stunning crystal glassware by Vera Wang for Wedgwood, and there's a special XO Cognac service for those who wish it.