The Best Places in New York to See the Most Beautiful Fall Leaves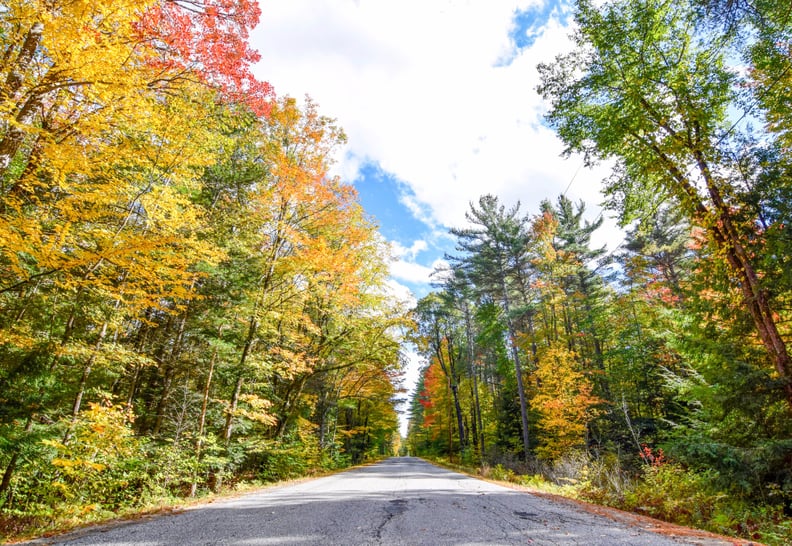 Lauren Breedlove
Lauren Breedlove
There's just something downright magical about the Fall season. It's crisp and cozy, bursting with pumpkin everything, and a colorful palette of dazzling Autumn goodness. Sure, you can embrace Fall anywhere, but not like you can in upstate New York. Autumn in the Adirondacks is the classic Fall experience — one best explored on a weekend road trip, of course. With the best cider doughnuts on hand, you can find yourself in a prime viewing spot as the sun illuminates the foliage to level 12/10 gloriousness. So, here's a gift-wrapped itinerary for the ultimate Fall road trip guide in the Adirondacks.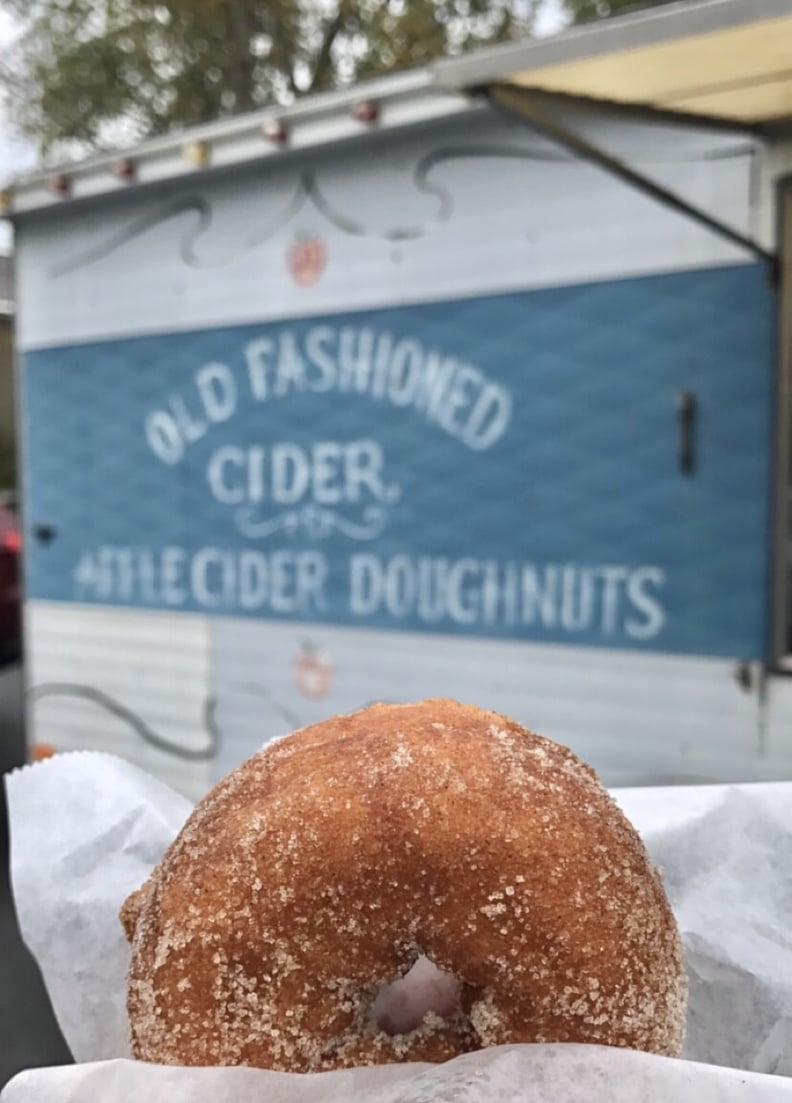 Lakeside Farms
What better way to kick off your Autumn adventure than with apple cider doughnuts? Technically not in the Adirondacks, Lakeside Farms is the perfect first stop on your way north. Turns out it makes the best sugary Fall confection in doughnut form around. Freshly baked, warm, crispy on the outside and soft on the inside . . . good luck eating just one. The plan here is to stock up, because these delicious devils will be accompanying you on an early-morning ADK adventure in the very near future.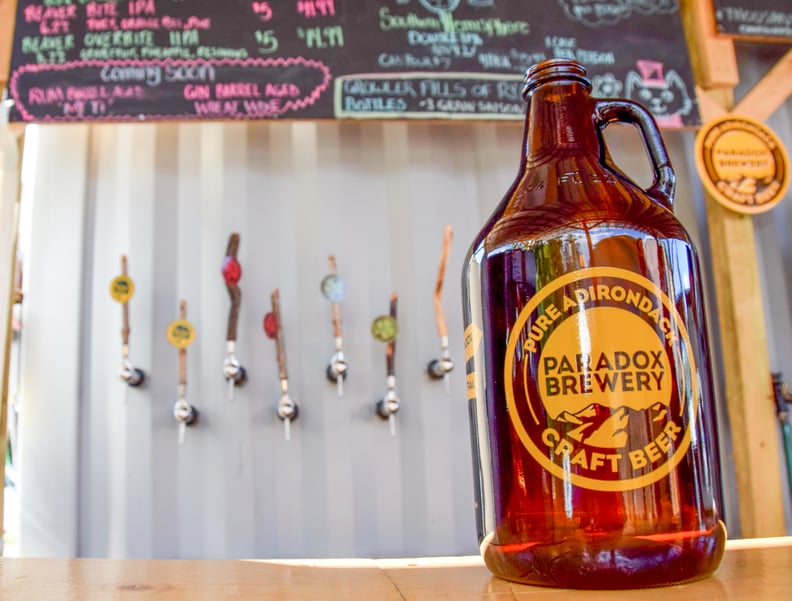 Paradox Brewery
Next stop is 67 miles north, to a local no-frills brewery for provisions of the craft beer kind. A top-o'-the-mountain cheers will be in order for your upcoming sunset jaunt, and Paradox Brewery has you covered. Fill up a growler or grab a pack of cans — or both (let's be real). Its taps are actual sticks, so your goal of feeling "one with nature" starts here . . . with beer.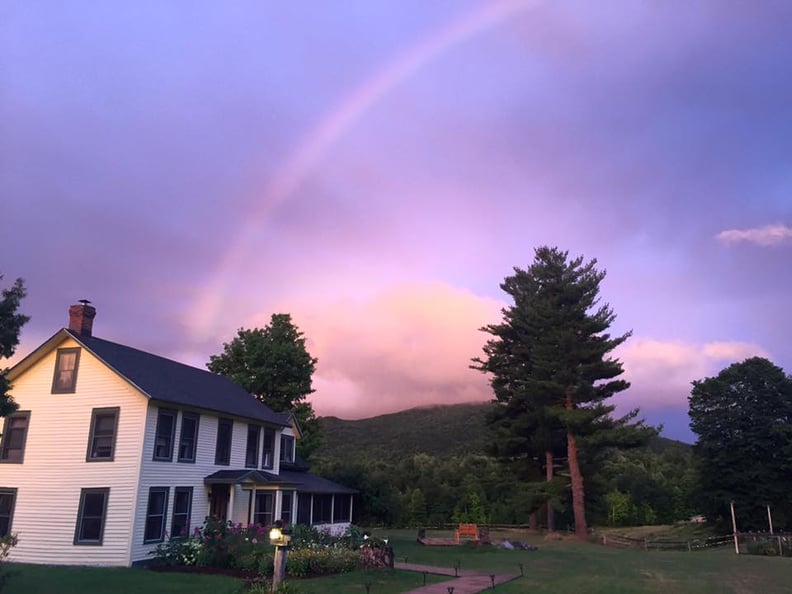 The Bark Eater Inn
Head 40 miles north to quite possibly the heart of the Adirondacks region, toward the quaint Keene Valley and your humble abode for the evening. Check in to the Bark Eater Inn, an adorable Bed and Breakfast oozing Adirondacks style. What's even better is that it's just a touch over five miles from the trailhead for your sunrise venture, which you'll appreciate in the wee morning hours . . . but more on that later.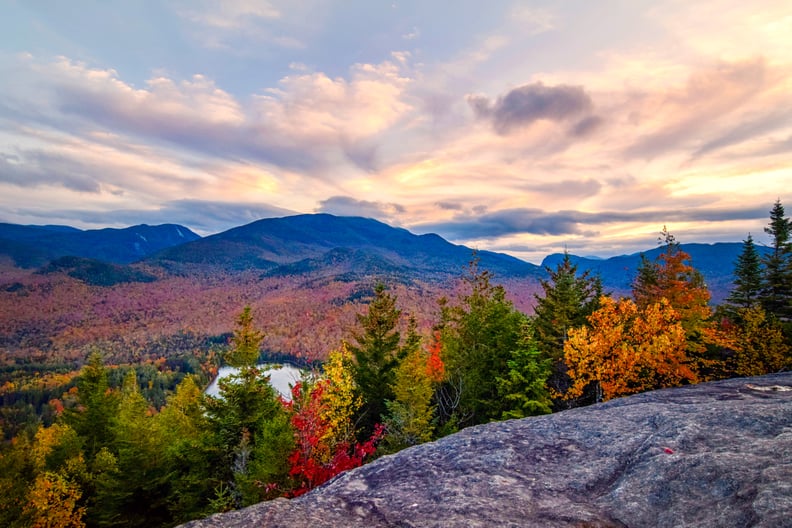 Mount Jo Sunset
Get ready for your first taste of true Adirondacks scenery . . . from a mountain top, of course. Just 15 miles from the B & B, your first ADK hike is ready for you. We'll start you off easy with a short (a smidge over two miles, round trip) but rewarding hike to stretch those road-tripping legs. The trailhead is easily accessed from Adirondack Loj Road, with parking at the Adirondack Loj lot. Just don't forget your Paradox brews for quite possibly the best happy hour views around. Oh, and you'll be looking over Heart Lake to boot — how romantic.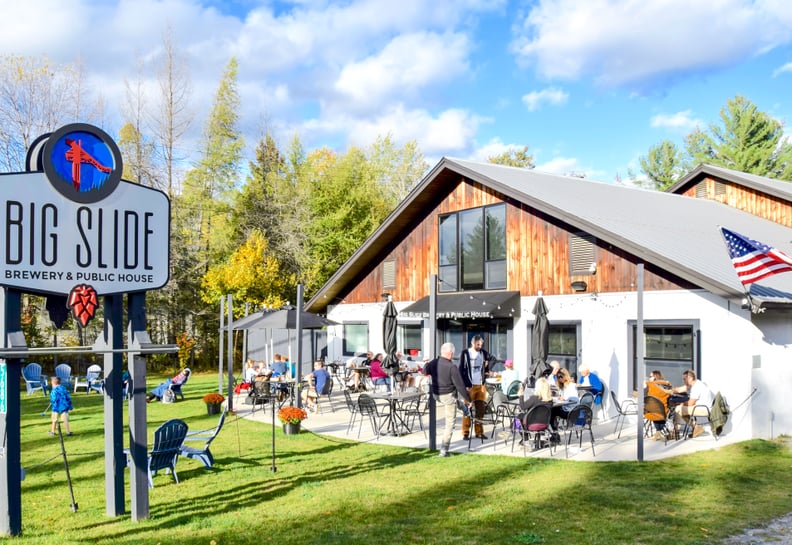 Big Slide Brewery
You've earned yourself some solid eats and more craft brews. Dinner and drinks are in order at Big Slide Brewery, conveniently located just a handful of miles (6.6, to be exact) from your just-finished hike and night's lodging. Try its double IPA, deemed "Giant," and nosh on its farm-to-table menu; everything is a delicious choice. Pack it in, as you'll need energy for your next stop mere hours from now.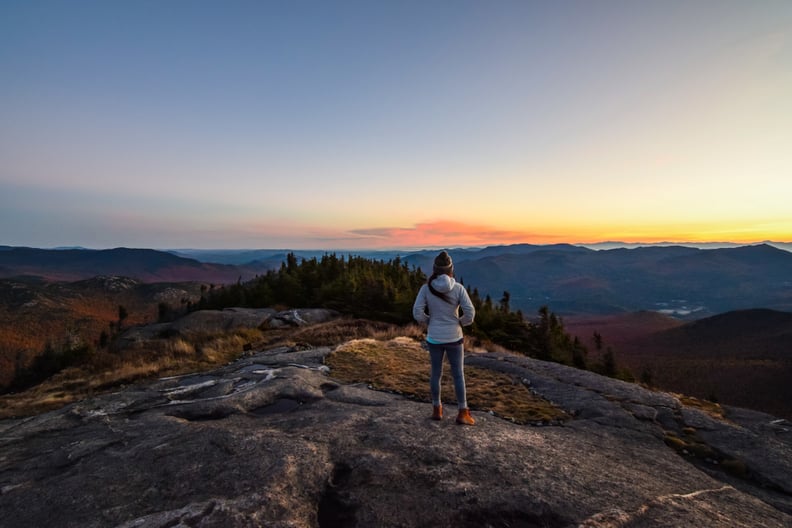 Cascade Mountain Sunrise
IMPORTANT: don't forget the doughnuts! Drive the 5.5 miles to the trailhead off Rte. 73. It'll be hard to roll out when it's still dark for this sunrise hike, but once you reach the summit, it will be well worth it. This five-mile(ish) round-trip hike gifts 360-degree views. Sunrise and Fall foliage produce a myriad of colors you'll never forget. Congrats! You just climbed your first Adirondack high peak; your trophy is a doughnut. As a bonus, you can easily check off another high peak by taking the additional short trail to Porter, Cascade's next-door neighbor.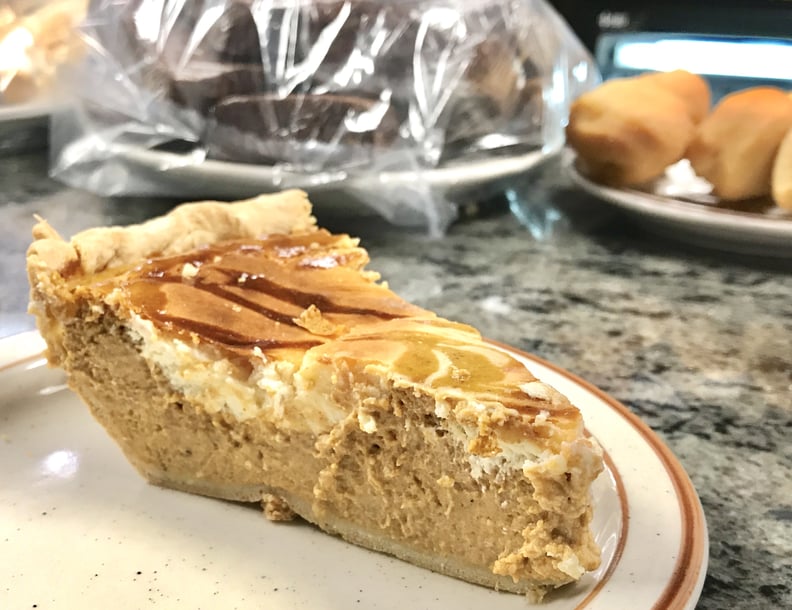 Noon Mark Diner
Despite the doughnuts, you'll be ready and raring to go for a second breakfast aprés hike at a Keene Valley staple: the Noon Mark Diner. Just 12 miles of scenic early-morning cruising will plop you at the doorstep of home-cooked tasty dishes. With its portions generous and prices affordable, it's easy to see why it's always a happening place. Walk in and seat yourself. Although you'll be stuffed, make sure you get a piece of its famous pie to go . . . or to stay — no judgment here.
Autumn Admiration 101
You'll have to tear yourself away from the Adirondack gem that is the Keene Valley/High Peaks region, but there is more Fall goodness to absorb — promise! En route to your next destination, 43 miles south, halt and admire the beauty and soak up the crisp air wherever you please; that's what road trips are for, right? You're headed to your off-the-beaten-path glamping locale, but on your way is a cute little hamlet for you to fuel up, in all senses of the word. Chestertown, NY, is mere minutes from your glamping paradise, and the Main Street Ice Cream Parlor awaits you. Pop in to the local country store or deli and grab some picnic essentials, because a picnic is an obvious must.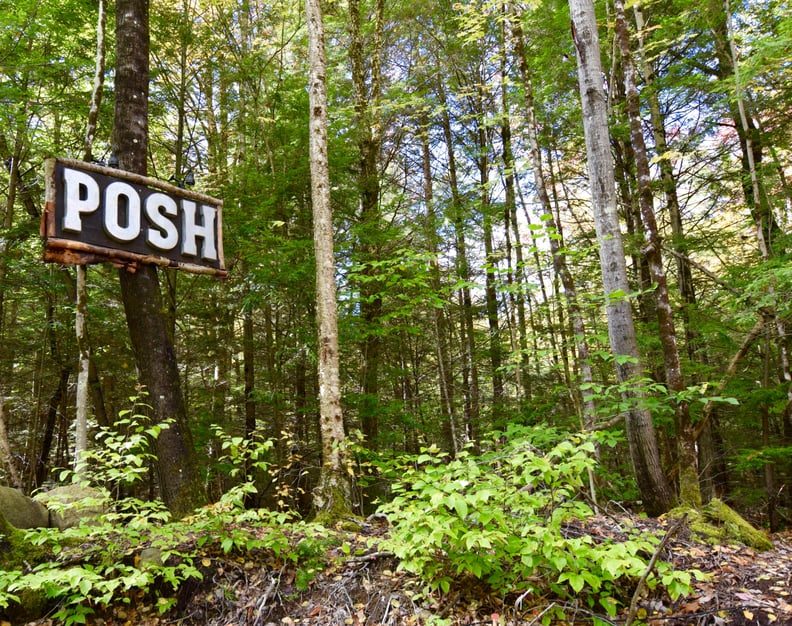 Glamping
Yes, glamping can be posh, and Posh Primitive will prove it to you. Get off the grid and luxury camp in style just 4.7 miles from Chestertown. Custom-made canvas tents each have a wood stove and firewood, all the camping basics. Relax on your tent's porch or arrange to have a guide take you out on a backcountry trip. Either way, it's a win-win.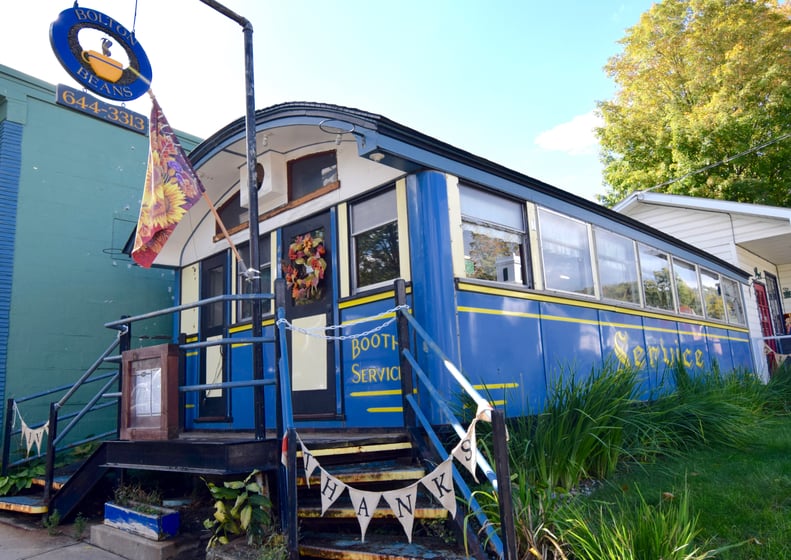 Bolton Beans Diner
After your well-rested night with nature, it's time to hit up the famous Lake George area, about 18 miles away. But first: breakfast. How about dining in an old train car? Bolton Beans Inc. serves up a fantastic breakfast with an old-timey feel, nestled in the cute little town of Bolton Landing.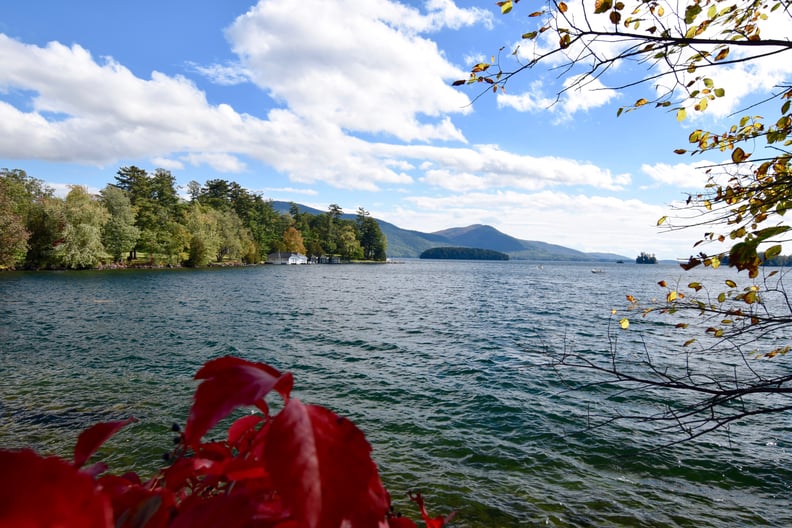 Lake George, New York
After a full breakfast, head over to the shores of Lake George . . . because, gorgeous. There are plenty of boat-rental spots to get out on the water, or just stroll along the lake's edge and marvel at its impossible beauty.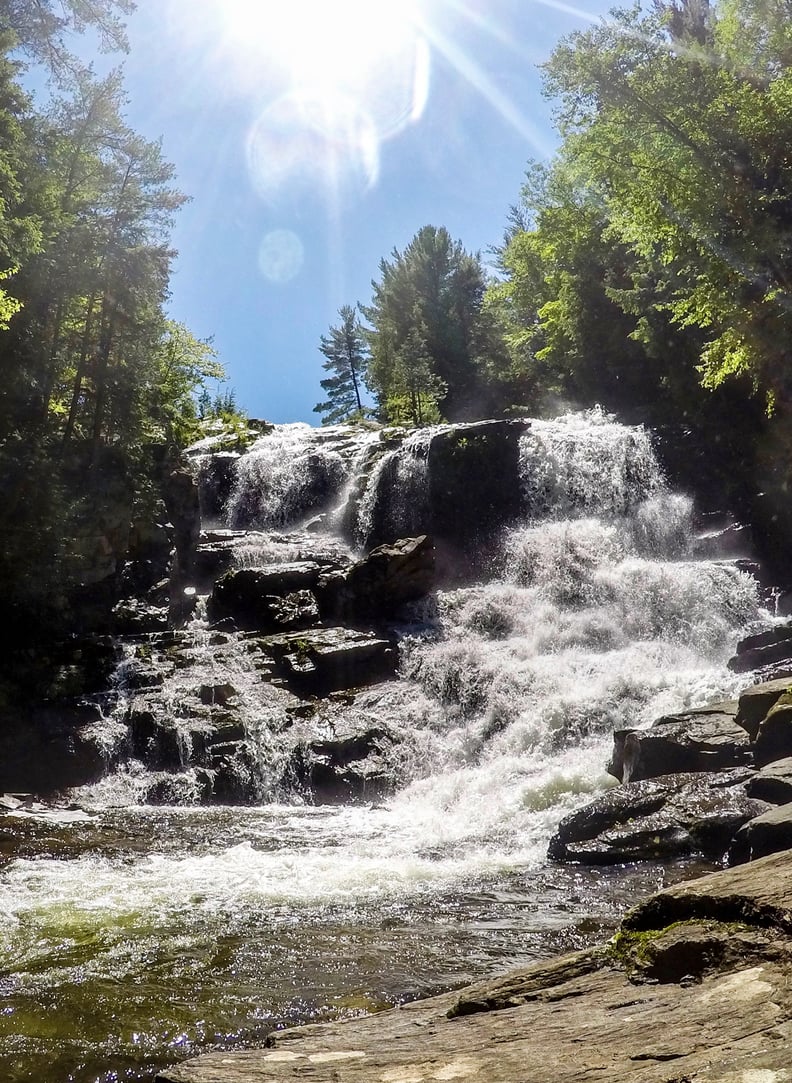 Shelving Rock Falls
Round out your Adirondacks experience with one last stop — to a waterfall. Skirt your way around the south end of Lake George, for 33 miles, and end up on the east side near Fort Ann, where you'll find the trailhead for Shelving Rock Falls. An easy 15-minute walk will bring you to the 50-foot falls, but if you have time, keep on keepin' on for a calming stroll with views of the lake. Leaving the Adirondacks won't be easy, but you can always stop for another apple cider doughnut for comfort.