7 Best Swimming Holes in the US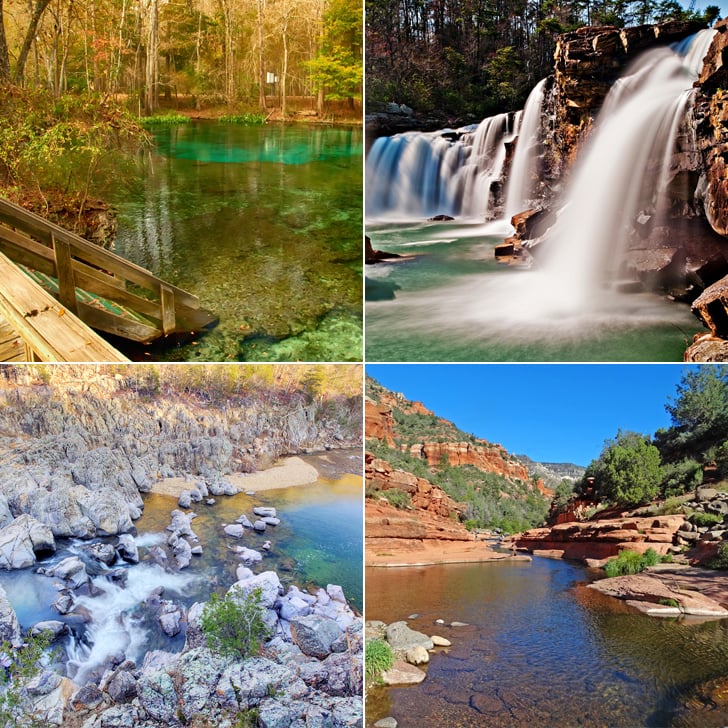 If you're looking for a Summer experience that's more unique than heading to the pool, we've got you covered. America is covered with swimming holes that are great to dive into. Check out our favorite spots in the US and jump in!
01 Ginnie Springs, FL
Located on the Santa Fe River, Ginnie Springs has some of the clearest water in the state. The water is 72 degrees, so it's a great place for swimming and snorkeling.
02 Little River Falls, AL
This beautiful swimming hole has waterfalls that pour into blue waters. There are picnic tables and grills located near the area so you can hang around all day.
03 Slide Rock, AZ
Slide Rock is named for its slippery creek bottom that visitors slide down along with the natural water chute. It's also a great place to wade around and soak up the sunshine.
04 Waioka Pond, HI
If you're feeling adventurous and find yourself on Maui, many people like to go cliff jumping at Waioka Pond. The stunning swimming hole is on the way to the town of Hana.
05 McKinney Falls, TX
Located just 13 miles from Austin, McKinney Falls is easily accessible. It's an excellent location for swimming, fishing, and admiring waterfalls.
06 Havasupai Falls, AZ
You must hike eight miles to get to this swimming hole, but it's totally worth it. The blue-green waters and massive rock formations make it a picturesque place to visit.
07 Johnson's Shut-Ins, MO
The shallow waters of Johnson's Shut-Ins are dotted with small rock formations that you can climb and explore. This place can get lively on a Summer day!