6 of Southeast Asia's Most Breathtaking Destinations That You Need to See Before You Die
Southeast Asia has become one of the hottest travel destinations in recent years for everyone from celebrities and influencers to budget travelers, and it's really not difficult to see why. As though the dreamlike landscapes, fine-sand beaches, and vast mountain ranges aren't reason enough to visit, it also has a rich cultural and spiritual history often dating back thousands of years. If you're thinking of heading to Southeast Asia for your next trip (and you definitely should), keep reading to learn more about its provinces that hold some of the world's most aesthetically and historically monumental sites. Then get ready to pack your bags and catch your flight!
01 Bali, Indonesia
Home to nine spectacular temples both ancient and fairly new, Bali's incredible spiritual retreats, stunning landscapes, and warm hospitality will make you want to keep extending your stay.
Among the temples, Tanah Lot is one of the oldest sites for worship perched on the shores of the Indian Ocean and looks just like a floating castle straight out of a fairy tale. Uluwatu Temple is also one of Bali's most spectacular Hindu worship sites, overlooking the shores that make up some of the finest beaches in Bali. A more recent though equally magnificent site, Tirta Gangga Royal Water Palace is made up of stone statues on the holy Agnes waters that are surrounded by the breathtaking rural terrain of eastern Bali.
02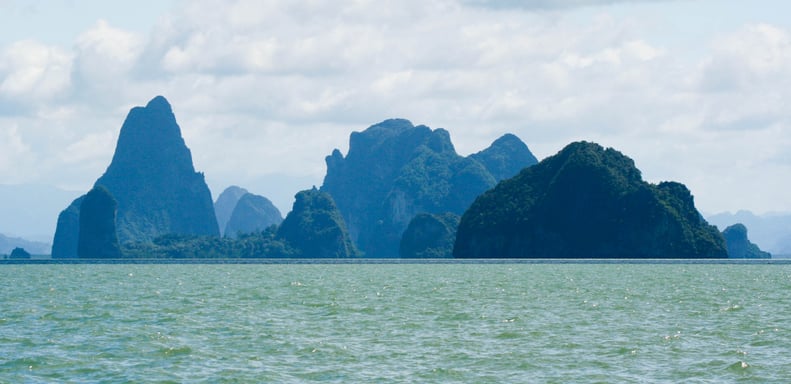 Phang-nga, Thailand
The second rainiest province in Thailand, Phang-nga holds one of the world's largest rainforests and is central to Thailand's finest conservation areas.
Phang Nga Bay, an archipelago of 42 islands, is known for its picturesque limestones jutting from the Strait of Malacca waters. Its scenery often rings a bell to that of Vietnam's Ha Long Bay, and geologists suggest that these mini mountains resulted from the same tectonic plate collision!
For next-level sublime island scenery, the 11 Similan Islands, located right off the coast of Phang-nga and Phuket, are home to some of the most unique ecosystems and clearest blue waters. While strict laws limit, and on some islands entirely prohibit, visitors to preserve its precious wildlife, these islands are a peaceful and remote place for snorkeling and diving.
03
Siem Reap, Cambodia
An ancient stone village from the Khmer Empire, this northwestern province of Cambodia has evolved throughout the decades to become one of the country's biggest tourist attractions, with as many visitors as seen in Europe. From rice fields in the south to the vast rainforests in the north, this town holds an abundance of rural and agricultural landmarks in addition to the greatest fresh water reserve in all of Southeast Asia.
Of Cambodia's hundreds of temples from the ancient Khmer Empire, the Angkor Wat temple complex is by far the most esteemed for its intricate, world-renowned architecture and internal artifacts. Directly translated to "temple mountain," it was originally built as a spiritual home for the Hindu god Vishnu and has since become popular among Buddhist pilgrims and an estimated one million tourists per year.
At the heart of the Cambodian jungle is another magical temple complex dating back to the Khmer Empire. Ta Prohm was built in the 12th and 13th centuries as a Buddhist monastery that centered around wisdom and learning and is still widely recognized for its beautiful strangler trees that wrap around the stones of the temple.
04 Uva, Sri Lanka
Uva is the second-least populated province on the island of Sri Lanka and an incredible scenic escape and eco-conscious atmosphere for anyone looking to live more green. The province is particularly known for its waterfalls, elevated plantations, and unique climate conditions that accommodate the production of its high-quality and one-of-a-kind flavored teas.
Among its gorgeous rural sites, Ella Rock is central to the province's famous tea production and overlooks some of the most beautiful green plantations in the village of Ella. Interwoven in its terrain is also the Nine Arch Bridge, a stone train track from the British Colonial Period and a gorgeous romantic stop for unmatched views of Ella's surrounding jungle. For bluer scenery, the Bambarakanda Falls is Sri Lanka's tallest waterfall with a pool base clean enough to bathe in. Surrounded by the scenic hill town of Kalupahana, the waterfall is a secluded, peaceful spot for picnicking and relaxing.
05 Palawan, Philippines
Palawan, the largest island province in the Philippines, is perhaps one of the most underrated tropical destinations, given its incredible subterranean waters, rock formations, and rare wildlife from both sea and land. While its main island Palawan was deemed "The Best Island In The World" by Travel + Leisure magazine, its neighboring islands are also dreamlike and suitable for hiking, diving, and horseback touring, among other recreational activities.
Among these islands, the fine white sand and bright blue water of El Nido make for an unmatched tropical paradise and the primary gateway to the sublime Bacuit Archipelago with 45 stunning limestone cliffs. In addition, Coron Island is particularly famous for the Japanese World War II shipwrecks that have permanently anchored underneath its shores — though its views also make the site one of the most photographed in all of the Philippines.
06 Vientiane, Laos
Vientiane is the capital and most-populated province of Laos. Rather than bucket-listing and specific sightseeing, this province is best for taking in as a whole for its languid and laid-back culture and atmophere. Among its charming villages, Vang Vieng is a scenic rural town along the Nam Song River and surrounded by strikingly gorgeous mountains and caves. Once an agricultural landmark, this scenic village evolved to accommodate visitors in an array of adventurous activities, like tubing and water-sliding along the river, caving, and hot air-ballooning for a gorgeous, aerial view of the village.