This Bubble Hotel in Iceland Lets You Sleep Under the Northern Lights!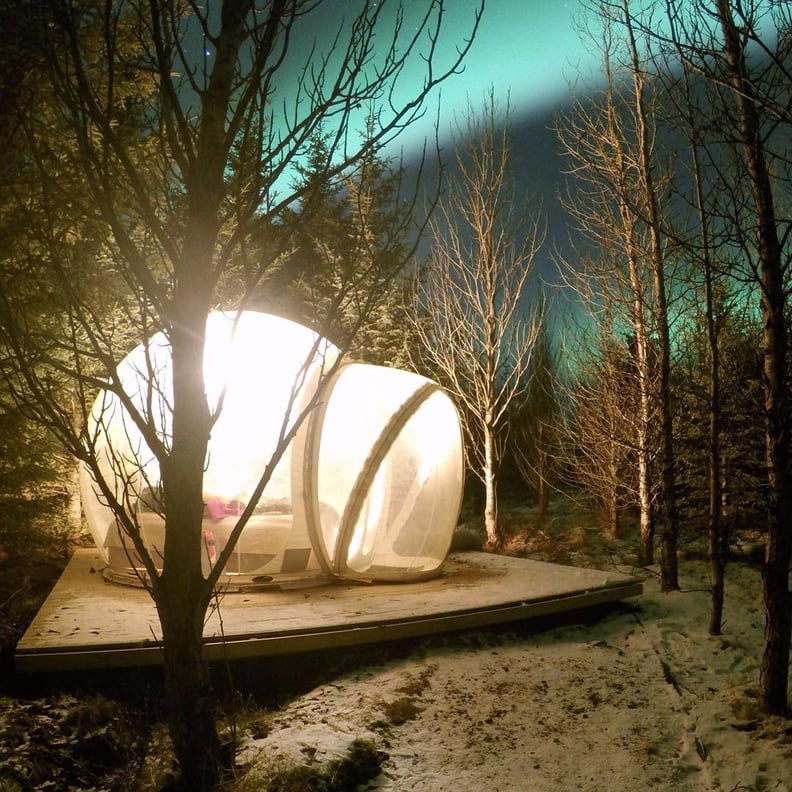 Seeing the Northern Lights is definitely a bucket-list-worthy item, but how about sleeping under the aurora borealis in the comfort of your very own bubble? Buubble, a unique lodging experience outside of Reykjavik, Iceland, calls itself "the five million star hotel." Considering the Icelandic sky is your roof, we'd say that's a pretty accurate self-rating.
Guests can choose between five transparent accommodations, from the Una ($281 USD) to the Maria ($291 USD), which come with either a double bed or a round bed. If you choose to visit during the Summer, the ventilation system allows you to enjoy views of the midnight sun without your "room" fogging up. Its heating system also ensures that you're kept cozy all night during your stay between mid-August and March, the best window of time to see the stunning Northern Lights. The bubble includes limited amenities, but a shared service house features toilets, showers, a kitchen, and a dining area for guests.
Aside from the outbuilding, guests can enjoy total privacy in their rooms. Each bubble is completely surrounded by trees, so you won't have to worry about anyone looking in. Because Buubble is situated on a private farming/forest area, wildlife won't be an issue either.
Based on the guests' experience, Buubble looks like an unforgettable stay! Check out the photos ahead.