12 Reasons to Pack Your Bags and Visit Charleston, SC, Now! Flickr user allisonmseward12
Defined by idyllic cobblestone walkways, pastel-hued antebellum homes, and elegant Spanish moss hanging loosely from old oak trees lining the streets, the beauty of Charleston is undoubtable. Located on the shoreline of South Carolina, this historic port city might be small in size, but it is packed with charm. Delicious food, smiling faces, and a bucketful of Southern hospitality are just a few of the many delights you'll find when exploring this corner of the coast. And how could we forget to mention the infectious leisurely pace?
So if you're yearning for a place to relax, unwind, and simply have a good time while slowing down the everyday speed of life, here are 12 reasons to pack your bags and head to Charleston!
01 Wake up with the sun and take a leisurely stroll along The Battery.
Stretching along the shores of the Charleston peninsula is where you'll find one of the most quintessential spots in the entire city. Known as The Battery, this waterfront walkway offers an awe-inspiring experience to both local residents and first-time newcomers. With some of the most iconic and historic mansions located throughout the city, it's hard to not drool over all the architectural eye candy. And yet, if you turn your head in the other direction, you'll find even more magnificence with the serene Charleston Harbor expanding as far as the eye can see.
Because of this area's scenic beauty, it can attract quite the crowd of camera-toting tourists. For full tranquility, we recommend skipping the snooze and taking a leisurely stroll along this walkway while the city is still cloaked with sleep.
02 Experience the iconic pink charm of The Mills House Hotel.
Originally built in 1853, The Mills House Hotel has it all: warm hospitality, a sparkling pool, an on-site restaurant, and even a full-service fitness center. You won't even need to leave the premises of this iconic pink wonderland to have an unforgettable experience! Although if you are craving to get out and about, this hotel's location couldn't be better. Just steps away from the buzzing King Street and other fun attractions, The Mills House is ideal for those wishing to explore the city by foot.
03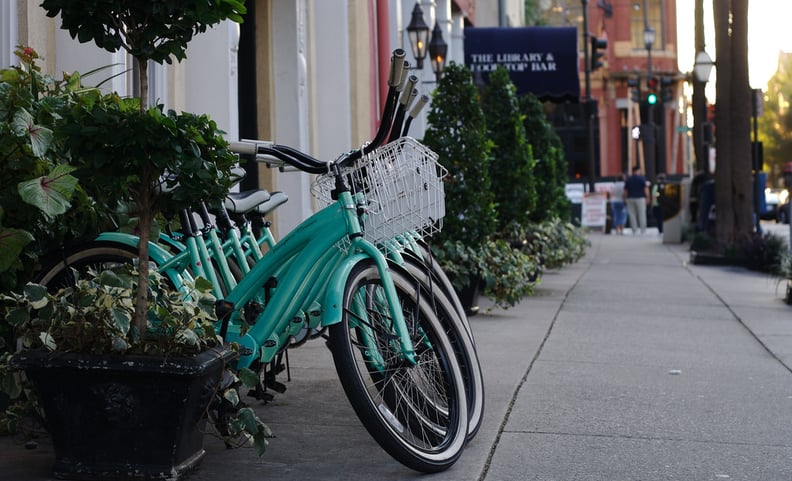 Cycle your way through the city by renting bikes.
With pancake-flat roads and a compact downtown, cruising on two wheels is a lovely way to make the most of your time and discover the beauty of Charleston. Whether it be joining a bike tour or cycling throughout the narrow streets and alleyways at your own pace, the choice is yours.
Be sure to check out Affordabike and B's Bikes if you are looking to rent. These two shops offer fast and affordable service and have a slew of colorful beach cruisers ready to hit the road!
04 Taste the sweetness of summertime at Charleston's local farmers market.
If your visit to Charleston happens to overlap with a Saturday morning, you might just want to check out the farmers market located in the beautiful Marion Square. From 8 a.m. until 2 p.m., you can peacefully peruse your way through the aisles of over 100-plus vendors selling everything from locally grown produce and freshly caught seafood to handmade arts and crafts. With live music, savory food concessions, and fun activities for all ages, good times are guaranteed!
And if you're in a shopping spirit, don't miss out on meandering around the Charleston City Market. Spanning a total of four blocks and housing more than 300 craftsmen and entrepreneurs, this historic market is the cultural heart of Charleston and one of the South's most vibrant places to explore.
05 Hit the water and sail around the Charleston Harbor.
Enjoy the shimmering waterway of the Charleston Harbor up close and personal by climbing aboard a sailboat, ferry, or water taxi. Tours take place at any time of day and are a fun way to get out on the water, sightsee, and even dolphin watch.
If you're seeking a more thrilling outdoor adventure, consider renting a kayak or canoe for the afternoon. Paddling along the serene saltwater creeks in the Lowcountry will provide you with unique opportunities to see even more of the natural wonders of Charleston. From wading birds and sea turtles to oyster beds and osprey, there is so much wildlife that call this area home. Charleston Outdoor Adventure not only offers budget-friendly prices on rentals but also phenomenal guided tours.
06 Stuff yourself silly with way more than just Southern comfort food.
Make sure to pack your elastic-waistband pants when visiting this city, as Charleston is pretty much a treasure chest boasting riches when it comes to food. Whether you want to treat your taste buds to classic favorites or introduce them to more innovative cuisines, whatever you decide to order, the dishes will be prepared with perfection, bursting with flavor, and served with a warm smile.
Butcher and Bee, Callie's Hot Little Biscuit, Husk, and Fig are just a few of the many hot spots. Do yourself a favor and forgo the calorie counting, because chances are you'll work off those indulgences as you wander around the city streets!
07 Curl your toes in the sand at one (or all!) of Charleston's gorgeous beaches.
Trading in the city vibes for some fun in the sun is quite easy when in Charleston. From Kiawah Island and the Isle of Palms to Folly Beach and Sullivan's Island, the breathtaking beaches and surrounding islands offer visitors an entirely new taste of Southern charm. So go grab your towel, sunscreen, and a good book, as a relaxing afternoon awaits.
08 Marvel at the city's architecture, color, and history on foot by joining a walking tour.
With its ornate architecture, colorful facades, and centuries-old mansions, Charleston is practically a living museum. And what better way to gain a deeper knowledge of the city's heritage than by joining a walking tour? Charging no upfront costs, the guided tours by Free Tours by Foot is an incredible way to explore all the many gems. Whether you're seeking a tour focused on historic landmarks, architecture, or even haunted graveyards, you can discover it all with expert tour guides ready to tackle any of your curiosities!
09 Tap into the local brew appreciation with flavorful craft beers.
Over the recent years, Charleston's craft beer industry has been booming with excitement. So many brewpubs, beer bars, and budding breweries are peppered throughout the city limits, and with local favorites such as Low Tide Brewing, Palmetto, and Frothy Beard, there's always something crafty and creative on tap. Now, isn't that something we can all raise our glass to? Because, well, life is just too short to drink boring beer!
10 Stretch out and relax under the shade of live oaks in the White Point Gardens.
Nestled in the heart of the historic district, Charleston's White Point Gardens is a prominent landmark with roots going back to the 18th century. The public park provides spectacular views of the Charleston Harbor.
With waterfront views, soft breezes, and large, shady oak trees, this 5.7-acre park bestows an abundance of natural beauty and is a prime spot for a lazy afternoon. After stretching out and relaxing a bit, embark on a stroll around the park to take in the display of historic weaponry. History buffs will love the cannons, mortars, sculptures, and monuments.
11 Revel in the nightlife glory of Broad Street.
Just because the sun sets for the day doesn't mean you have to turn in. Instead, take your upbeat energy and revel in the nightlife glory of Charleston's lively downtown. The spirited Broad Street is a great place to get your night started. Known for its delicious restaurants, buzzing bars, and speakeasy-inspired lounges, there is no denying this pocket of the city is worth the rave!
12 Make a wish at the Pineapple Fountain in Waterfront Park.
Since its debut in 1990, people have been flocking to Charleston's iconic Pineapple Fountain. Symbolizing warm hospitality, this fountain located in Waterfront Park is not only a refreshing spot to cool off in the sticky Summer months — don't be surprised if you see people of all ages doing so! — but it is also a popular place to make a wish before leaving.