This Nifty Product Makes Lugging Bags Through the Airport So Much Easier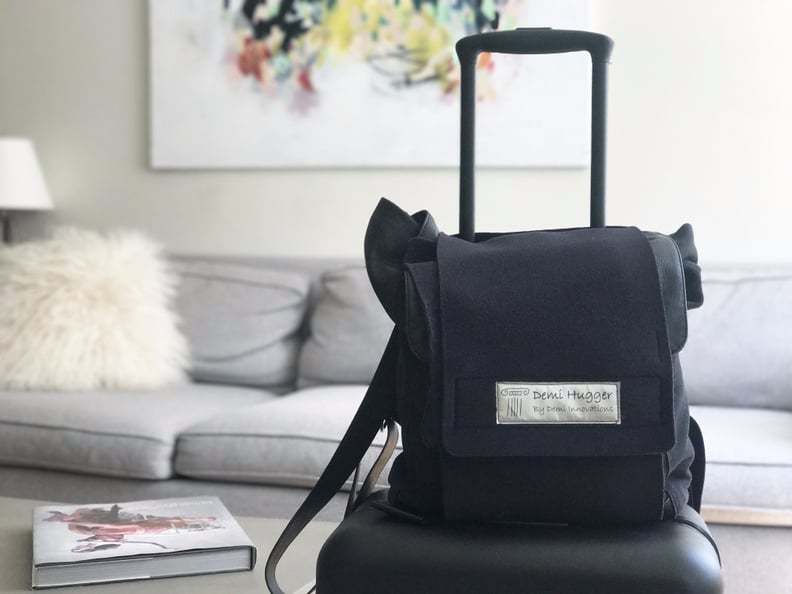 POPSUGAR Photography | Hilary White
POPSUGAR Photography | Hilary White
You know that person who bravely stacks multiple pieces of luggage on their rolling suitcases as they hurry through the airport? Maybe you are that person. Or maybe you're the person who tries this balancing act and fails and has had to scramble around red-faced while you gathered up the belongings that toppled over in the middle of the terminal.
I usually travel with two items: a backpack large enough for my laptop and other air travel necessities, and a larger rolling carry-on bag (I'm an Away luggage-lover!) for all of my clothing, shoes, toiletries, etc. In order to consolidate my luggage and save my back some extra work, I like to stack my backpack on the top part of my rolling suitcase and loop the straps of the backpack through the retractable handle of my larger bag. Unfortunately, things don't always go as planned, and full disclosure, I am the person trying to catch my bag as it teeters off sideways and crashes to the ground.
There's a surprisingly simple solution to this inconvenience. The Demi Hugger ($32) is an item that helps you hack holding your carry-on items on your rolling suitcase, leaving your hands free. The "hugger" is made of neoprene and slips over the handle of wheeled suitcases. With Velcro, the strap secures anything from a large tote bag to a guitar — or a large backpack in my case. It works vertically and horizontally in order to accommodate most shapes and sizes of items you want to strap on and makes running through the airport or train station significantly less risky — at least in terms of your luggage flying everywhere.
I tried out a Demi Hugger on my last trip and was surprised at how easy it was to use, how efficient and effective it was, and how quickly you can take the strap on and off when going through security and storing your luggage in the overhead bin on a plane. I'm anti-labels and branding, so the only thing I didn't love was how large the label is on the front, but in terms of usefulness, I'd highly recommend the nifty little travel hacker. Check out a few photos of the Demi Hugger ahead to see how it works and what it looks like.