A DIY Cocktail Station Is the 1 Thing Your Birthday Party Is Missing
So you've got the party favors, the snacks, and maybe even some festive birthday hats to conjure up nostalgic vibes. But if you're still feeling like something's missing, we have an idea you just may be on board to try. It's cute, it's oh so trendy, it's . . . a DIY cocktail station!
If this sounds up your alley, you'll definitely want to pick up this month's POPSUGAR Must Have box. It includes a handy Lacquered Pastel Cheers tray that's ready to house your custom creations for a birthday celebration to remember. For all the inspo you'll need to set up your own, keep scrolling to see how we're styling ours.

What You'll Need
While there's no perfect formula for a cocktail station — it all depends on the mood you're going for and the party guests you're catering to — there are a few staples you'll want to have on hand. Starting with your liquor of choice (or nonalcoholic beverage if you're hosting a sober birthday bash), stock your fridge with complementary mixers. Finish with coordinating glasses and small serving bowls for sweet and sour candy garnishes galore.
Pro tip: One way to instantly elevate your party is with a cohesive color scheme. Be sure to plan ahead by choosing mixers, garnishes, and serveware in the same hue.
Set the Scene
Start with a tray that's as cute as it is multifunctional to easily build and serve drinks. Next, set up your station with DIY-friendly touches that fit your party theme. For a pouring method that's as functional as it is photo-worthy, house premixed beverages in clear pitchers of different shapes and sizes. And based on your drinks of choice, you may need to adorn your station with straws, ice buckets, and a shaker if you're going the custom route and mixing drinks on the spot.
When it comes to garnishes, forego traditional options by choosing a variety of colorful candies that will add a fun, celebratory, and totally adorable upgrade to your big day. Our top suggestions? Rock candy lollipops for that ultraluxe look, and sour gummies that are easy to assemble with the help of festive, cheeky toothpicks. A build-your-own garnish station has never looked so sweet.
Enjoy!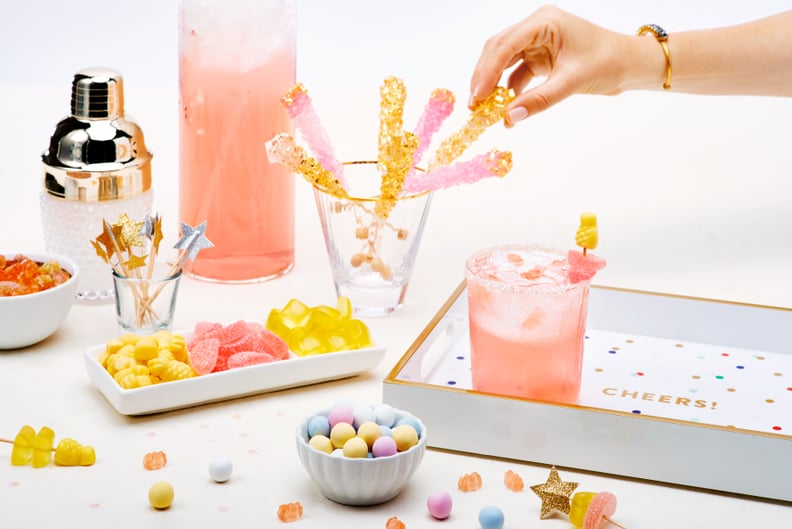 Want to try this idea yourself? Look no further! You can snag this adorable cheers tray plus six other fun goodies in the POPSUGAR Must Have box, on sale now.