I Tried CBD Oil to Calm My Nerves While Flying, and This Is What Happened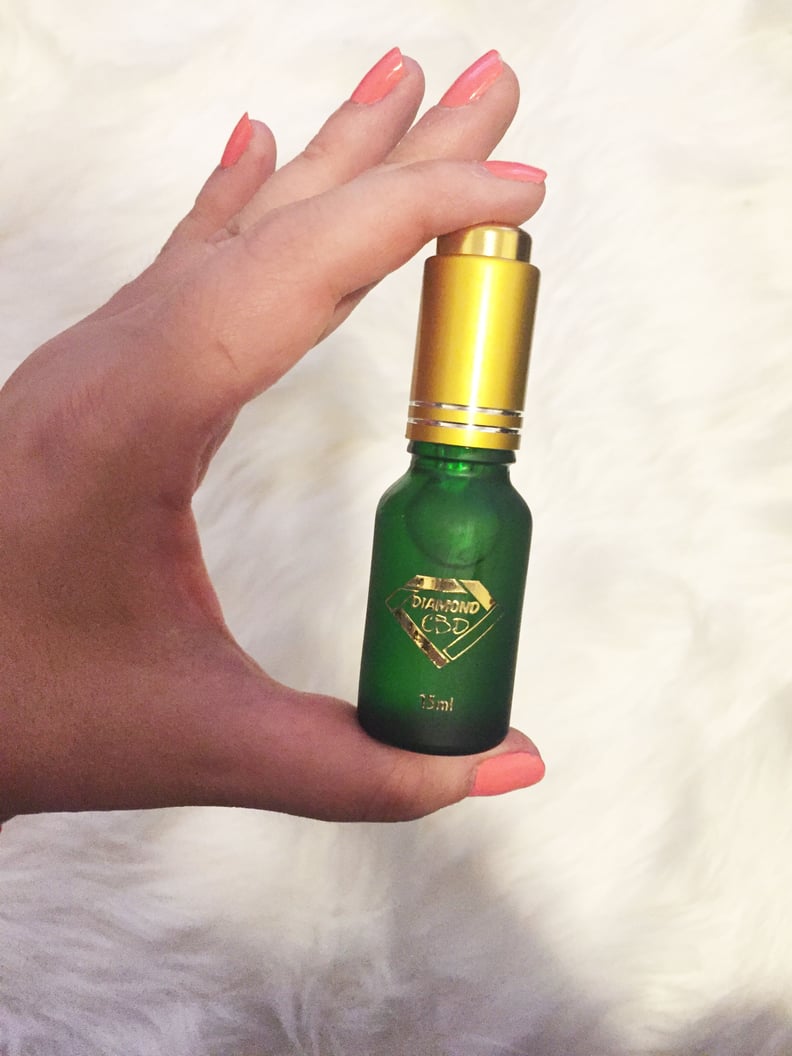 POPSUGAR Photography | Hedy Phillips
POPSUGAR Photography | Hedy Phillips
I have such an intense love/hate relationship with flying. I think flying is one of the coolest experiences, but it still absolutely terrifies me for reasons that make no sense whatsoever. While in flight, I go through several routines that help calm my nerves, and if any of it is thrown out of whack, I find myself having a near meltdown. But at the advice of POPSUGAR Fitness editor Dominique Astorino, who used CBD oil for anxiety, I decided to try it on my last batch of flights to see how it would work for me.
My CBD oil of choice was Diamond CBD oil in cotton candy flavor, because I'm nothing if not a child at heart. Over the course of four flights, I experimented with how much I used and when to see if I could find the magic formula. I opted to fully use it as a tincture, as that is the easiest for me to do while traveling. But, rather than drop it into any liquid, I put it straight in my mouth for efficiency.
Flight 1: New York to Denver
Because of poor planning on my part, I got to the airport much later than I wanted to for this flight, which meant I didn't take my CBD oil until I'd already boarded the plane. I opted to do two nearly full pumps of the dropper because I tend to be fairly resistant to CBD and THC and I wanted to really relax. About an hour into the flight, I started to feel slightly tired but not drowsy and pretty relaxed. Overall, the flight was pretty calm, but once we were coming into Denver, which is never fun, I was hyperaware of everything, and the CBD had no effect at that point.
Flight 2: Denver to San Francisco
I had a very short layover in Denver and wasn't sure if I should try topping off my earlier dose of CBD, but I went for it, because, again, Denver airport problems. I only used one dropper full this time, and it was about five hours after my previous dose and about 30 minutes before my flight. Our takeoff was terrible, so I would have loved to be relaxed, but this time I felt no effects of the CBD oil other than my palms feeling extra sweaty. The relaxation reached me later in the flight, but at that point, I didn't feel like I needed it as much.
Flight 3: Los Angeles to Denver
Poor planning on my part resulted in me flying through Denver again to come back home, despite how much anxiety the flight route gives me. But I was better prepared on the CBD front this time, which was a very good thing when I realized that a lot of my usual comforts during a flight were going to be taken from me. I checked into my Southwest flight far later than I usually do and was stuck with a bad boarding spot, which meant no window. Then the passenger who had the window seat of my row closed the shade, and I actually wanted to panic. Luckily, I had taken three droppers full of CBD oil about 45 minutes prior to this and had already started to feel drowsy. Despite being very uncomfortable during the entire flight, the CBD absolutely helped to calm me down.
Flight 4: Denver to New York
I finally got it right for the fourth flight. After another layover in Denver, where I topped up on the CBD with another two droppers, I was actually able to nod off during the flight. It's extremely rare for me to feel calm and comfortable enough during a flight to actually fall asleep, so this was a bit of a miracle.
Overall, I would recommend this particular CBD oil for anyone who is a nervous traveler. The percentage of CBD in the oil is low enough to make it legal to purchase, carry, and use, but it's still concentrated enough to give you the calming effects. The small bottles are actually perfect for travel, because they meet TSA requirements for the amount of liquid you're allowed to bring on a plane. However, all that being said, make sure to read the instructions that come with any CBD or hemp products you purchase and adjust accordingly to see what will work for you.
Any cannabis products referenced above are not intended to diagnose, treat, cure, or prevent any disease. The writer is not a medical doctor, and their experience is based on personal use, the results of which may not be typical or intended. The legality of cannabis products varies by state, and readers are encouraged to check their local laws before purchasing and using cannabis products. Nothing in this article should be construed as advice regarding the legal status of cannabis products. Any views expressed in this article by a third-party sponsor are those of such sponsor, and do not necessarily represent the views of POPSUGAR.