9 Expert Travel Tips You've Never Thought Of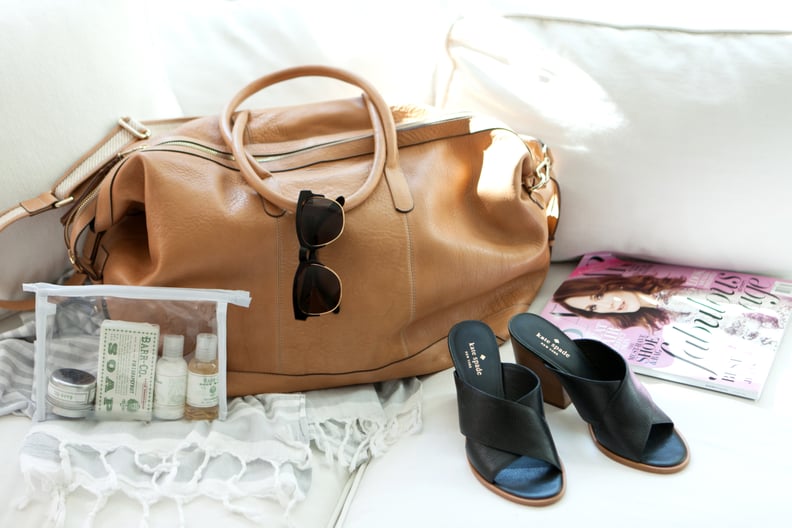 POPSUGAR Photography | Mark Popovich
POPSUGAR Photography | Mark Popovich
Wouldn't it be nice, before every trip, to call up an expert and get her advice on what to pack or how to upgrade to first class? Well, we can't promise a phone chat, but we can give you those tips right here and now. Shout-out to all these travel-industry editors, bloggers, and TV hosts who were kind enough to give us the scoop on killer tips that will have you asking, "Why didn't I ever think of that?" On their behalf — you're welcome. If you're addicted to travel like we are, then follow these tips!
Pack and Unpack
"Once you're done packing, unpack one third of your loot. You'll have a hard time leaving what you thought was essential stuff behind, but it'll be worth it — just think of how much more shopping you can do! But make room for some duct tape and a few binder clips. You never know when you'll need a makeshift clothesline, shampoo lid, purse handle, sandal strap, curtain rod, lint brush, hemming solution . . . "
— Emily Wolman, editor at large of Lonely Planet
Your Phone Camera Isn't Just For Selfies
"Hopefully, you don't ever have to experience travel's pitfalls, but if you do, be prepared. Before you travel, use your phone's camera to take photos of all your emergency contact information. In the event your wallet or passport is stolen, you'll have all the information at your fingertips. Snap your passport, the backs of credit cards for phone numbers, driver license details, health insurance cards, travel documents, etc. In an emergency, you'll be able to verify your identity, show proof of travel, and get in touch with people at a moment's notice."
— Melanie Nayer, travel writer
Sink Stoppers Are Essential
"Always carry a pen when you take an international flight. You will probably be asked to fill out a customs form, and they often don't have pens on the plane or in the airport. Carry a universal sink stopper, too. It is a cheap $2 piece of rubber that will let you do laundry in the sink or use a bathtub that otherwise won't fill. It takes up little to no space, but it is totally worth it."
— Gary Arndt, Everything Everywhere
Pack Peppermint Oils
"Peppermint essential oil is perfect for calming nerves for jittery fliers and great for headaches or potential colds that may be coming (rub some on your temples and under the nose). It's also great for upset stomachs that come with constant travel and eating new foods."
— Jeannie Mark, Nomadic Chick
Chocolate Goes a Long Way
"Always be nice to everyone, and bring two boxes of chocolates — one for the gate agents and one for the flight attendants, because they can make or break your trip. When you give it to them do it with a big smile, be genuine, and don't look for anything in return. If there is a chance they can give you a better seat or service, they will."
— John E. DiScala, Johnny Jet
Your Carry-On Can Save You
"In your carry-on: water, snack, clean undies. No matter what form of transportation you are using to go from point A to B, you'll get thirsty and hungry. I was on a short flight once and didn't take my advice; we ended up getting diverted to another airport, sat around for three hours, and flew back — man, was I hungry and thirsty! And the clean undies . . . bring them and thank me later."
— JD Andrews, earthXplorer
Invest in VPN
"Sign up for a Virtual Private Network (VPN) service. It's cheap and easy and means that you can use public WiFi on your own computer or phone for secure transactions such as banking and booking hotels online with your credit card."
— Janice Waugh, Solo Traveler
Fill Up on Fiber Pills
"Bring fiber pills with you; it isn't always easy to make healthy food choices when traveling, so it's always good to have backup . . . in case you're, you know, backed up."
— Nadia G., host of Bite This With Nadia G
"Staying Safe" Has Different Meanings
"Staying safe on the road is more about your demeanor and character than about taking extra precautions. The best thing is to have a confident attitude while traveling abroad in order to make sure you don't become a target. If there are any times that we are unsure or get stressed out, that is when we often get into trouble. Stay calm, stay confident, and always walk like you know where you are going, even if you're lost."
— Marcello Arrambide, Wandering Trader