9 Ways You Can Go on a Cruise While Barely Spending a Dime on Board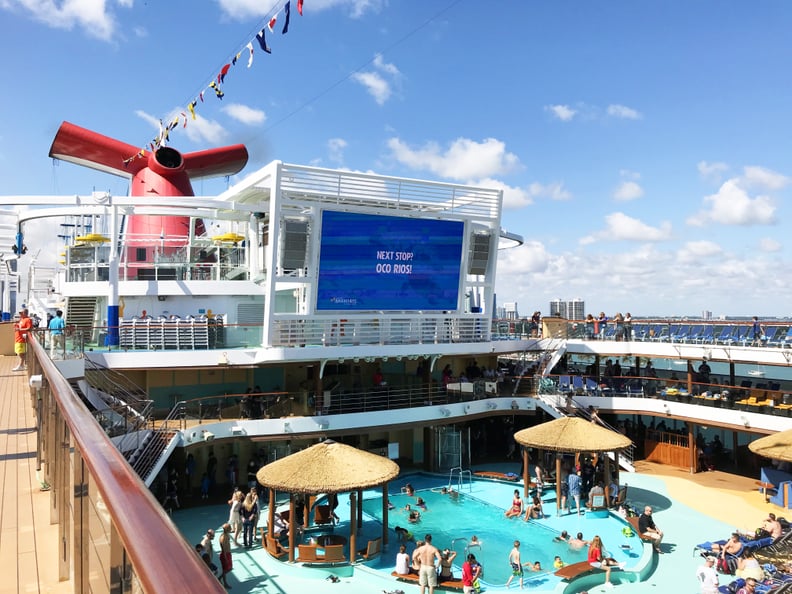 POPSUGAR Photography | Nicole Yi
POPSUGAR Photography | Nicole Yi
Cruises are a great travel option for several reasons: they're mostly all-inclusive, you're able to hit multiple ports on a single trip, and they give you more bang for your buck overall. On top of many being fairly affordable to begin with, there are more ways you can save money once you're on board. And if you stick to what's included in your boarding pass, it's possible to avoid spending all together once you're sailing. Here are nine ways you can cruise on a tight budget.
Bring your own wine and soda. Most cruises allow guests to bring up to one bottle of wine or champagne on board. I suggest enjoying it in your cabin rather than bringing it to the dining room to avoid corkage fees. You also have the option of bringing up to 12 sealed cans of soda in your carry-on to drink throughout your sail, since soft drinks are often an additional cost.
Fill up on all the pizza and ice cream. Take full advantage of the 24-hour soft serve machines and complimentary pizza served on your ship. Your midnight snack and daily dessert are already covered right there.
Unplug. Unless you're planning to get some work done, consider disconnecting for the duration of your sail. Not only is WiFi pricey, but it's also not as fast as you're used to while you're out in the middle of the ocean.
Know what your ship offers for free. Your boarding pass usually includes free meals at the buffet, meals in the dining room, certain room service items, and free slices at the pizzeria and complimentary soft serve ice cream on some ships. However, all it takes is a little extra digging to see what else is available for no additional cost.
Keep alcohol to a minimum. Alcohol is not included in your stay and this is where many guests end up splurging the most. All those cocktails can really add up by the end of the week, so consider signing up for an unlimited drinks package if a sober sail is out of the question. I recommend pre-purchasing your package before your sail date since it's typically cheaper than when you buy on board. And that way, you can start getting your money's worth ASAP.
Pack buffet food on port days. Before disembarking at your destination, fill up on breakfast at the buffet and bring some bites for the road. Bananas, muffins, and mini boxes of cereal are great to snack on while exploring.
Explore on your own instead of booking an excursion. Excursions can cost you around $50 to $150 per person. Not only does a DIY adventure save you major cash, but you'll also be able to avoid having to stick with a large group. Do some port research beforehand and pick your own activities.
Save unfinished wine for the next night. If you order a bottle of wine at dinner and don't end up drinking it all, ask your waiter to cork it for when you return. They'll write your name on it and have it ready for you the next evening.
Control yourself at the casino. One of my personal favorite cruise features is the casino (depending on the cruise), but that's also where most of my cash ends up. If you can, avoid it all together or set a strict spending limit at the very least.