I Tried Meditating Every Morning Before Work, and This Is What Happened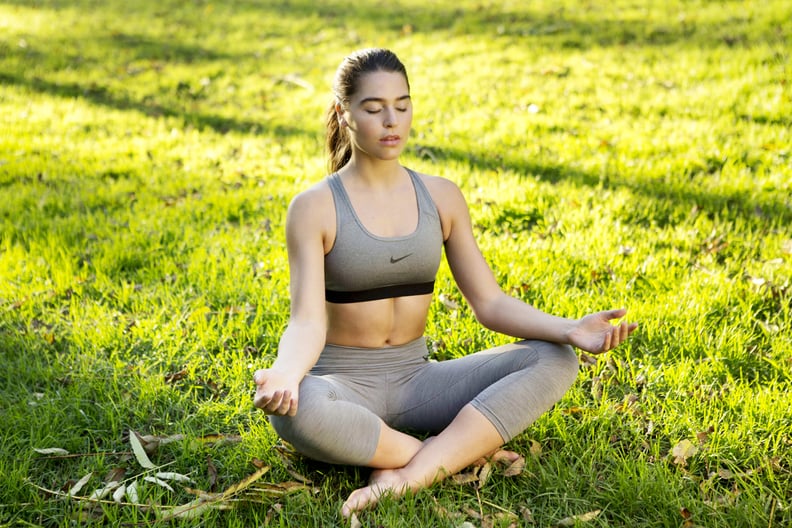 POPSUGAR Photography | Kat Borchart
POPSUGAR Photography | Kat Borchart
I'm constantly on the search for new and better ways to increase productivity, especially in the mornings. I am not an early riser in the slightest, so anything that helps me hit the ground running as soon as I wake up, I'm game. So, when Ananda Giri-ji from One World Academy visited our POPSUGAR office in San Francisco for a meditation session, I was intrigued when he advised us to meditate first thing every morning before checking our phones or making our coffees. By doing so, he said that we nourish the "beautiful state of being" (more on that later) and we manifest our intentions into reality. Basically, it helps you start your day off on the best possible note.
For 45 minutes, Giri-ji discussed the practice of meditation with our small group, including the difference between what the wisdom school calls a beautiful state of being and a suffering state of being. The former refers to the positive emotions you'd associate like happiness, peace, love, creativity, connection, and passion, while the latter is any state of being that would limit you: fear, loneliness, anxiety, jealousy, etc. By striving to maintain a beautiful state of being as much as possible, you're proactively trying to drive away the negative, resulting in an overall better mindset and well-being. Meditation is a way to shift your brain's activity to the BSOB.
There are various ways you can practice meditation, but the main thing to remember is that it's not about suspending thought, which is actually the antithesis of meditation, according to Giri-ji. Let your thoughts come in as they please instead of using all your efforts to block them out. You'll end up more in the suffering state by worrying about what to think or not think and whether you're doing it correctly. The objective of meditation is mindfulness and being in the present.
So, for every morning for a full workweek, I tried meditating for five minutes as soon I got up. I followed a shorter version of the eight- to 10-minute "soul sync practice" Giri-ji taught us with eight long inhalations and exhalations, eight more with audible humming, and the rest of the time visualizing myself melting into an infinite space. Here's how it went.
Monday:
I had trouble focusing. Maybe it was because it was Monday and I couldn't stop thinking about my to-dos for the week. And of course when my boyfriend is usually still asleep at this time, I was startled in the middle of meditation when I heard, "Nicole! COME HERE!" I thought something was horribly wrong, but he wanted to show me scenes from his middle school play that his best friend had dug up, and they definitely were worth seeing. But then when I tried resuming my practice, it was even harder for me to focus and I couldn't stop thinking about what coffee I wanted to drink after.
Tuesday:
This morning was much better! I did at times get distracted because of stomach pains from the container of parmesan I ate the night before, but other than that, I found myself in a peaceful state. My mind didn't race as much as yesterday, and the time went by much more quickly than I expected.
Wednesday:
Today's practice was the most nice and calming yet. It could've been because I woke up especially tired and it was kind of like a second sleep. Breathing felt so good, and this was the point when I thought to myself, "OK, I see you, meditation."
Thursday:
I definitely drifted off into a mini sleep, which could be why the five minutes passed so quickly this time. But I didn't wake to a groggy state as I expected. I felt slightly more refreshed than had I woken up after hitting snooze in bed.
Friday:
I was really distracted this morning with thoughts about what was still left to complete on my list for the week. It was difficult to stop thinking about work and what I needed to pack for my trip the next week.
Final Thoughts
Overall, I found morning meditation to be a calming way to start off my day. I felt like I was actively turning my brain on earlier and didn't have to wait for my coffee to kick in at the office for me to get going. I also realized that I have always sort of practiced a form of meditation each morning in the shower when I run through my mental list of to-dos and story ideas, except I found myself less frantic and more collected. I was able to enjoy my first cup of coffee at home without excessively thinking about my day ahead because I had already run through my mental notes. I didn't expect five minutes to make any difference, but I was pleasantly surprised to experience its subtle benefits. Though it didn't change my life or anything, it definitely helped me jump-start my day on a positive note and got my wheels turning sooner than usual. Close your eyes and try it for yourself!