12 Reasons Why You'll Fall in Love With This French Seaside City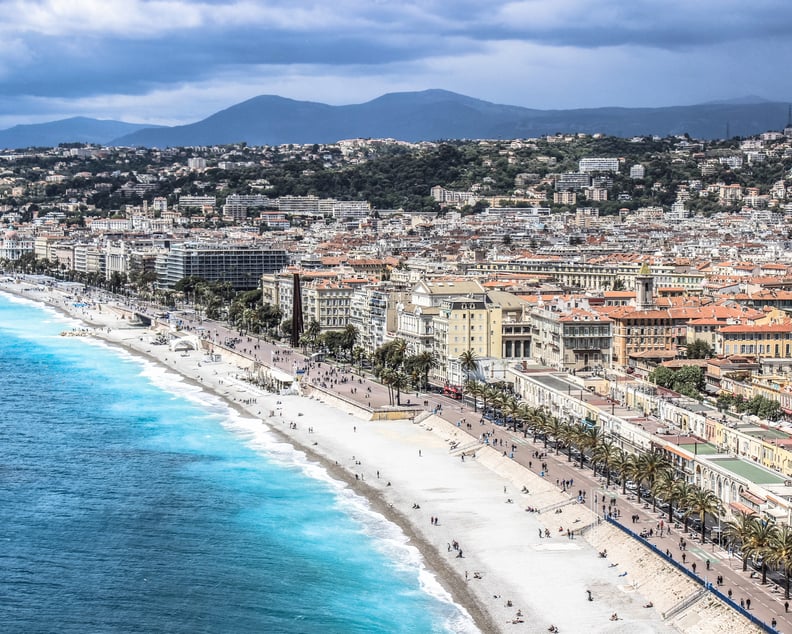 Kathryn McLamb
Kathryn McLamb
With its wondrous natural beauty, year-round sunshine, and sparkling Mediterranean waters, just one visit is all it takes to fall in love with Nice, France. Known as the capital of the French Riviera, this seaside city nestled in the southeast coast of France offers something for every interest. (And every budget!) Whether you're in search of relaxation, inspiration, or simply wishing to soak up the alluring Riviera vibes, this slice of paradise will deliver just that.
Yet be forewarned: no matter the length of your stay, chances are you'll be itching to extend it as soon as you breathe in that warm, salty Mediterranean air. But hey, what's wrong with a little French sabbatical, right? So if you're ready to pack your bags, here are 12 reasons why your love affair with Nice is about to begin . . .
01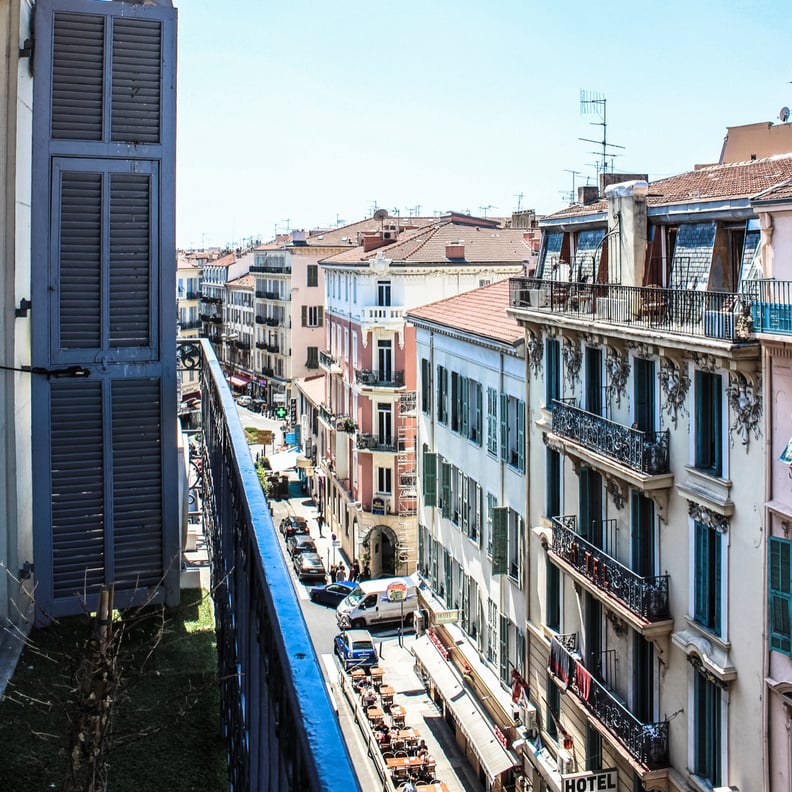 The terrace views (for less than $100 per night!)
Can you picture a more magical way to kickstart the day than by embracing the beautiful city views from your very own terrace? Given my tight budget, I would have never imagined this a possibility during my visit to Nice. But thanks to Airbnb, I found this cozy apartment, and at just $80 per night.
Not only did this home-away-from-home come with an intimate balcony — that was perfect for enjoying breakfasts and happy hours! — but it was also located in the heart of the city, which made exploring even more convenient.
02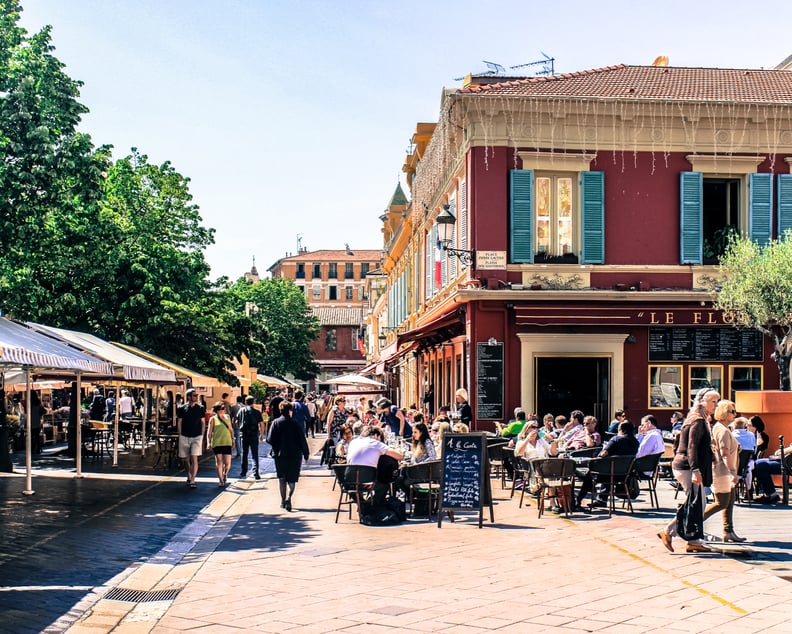 The laid-back atmosphere
Although Nice is the second largest French city on the Mediterranean coast, you'd never guess this given its infectious, laid-back atmosphere. With so many people out and about enjoying the outdoor scene of cozy cafes and local restaurants lining the streets, I couldn't help but slow my own pace. By embracing a more leisurely stroll, I became more present in the moment, and my usual frenzied state of mind quickly simmered. It was then I realized the French Riviera is simply good for the soul.
03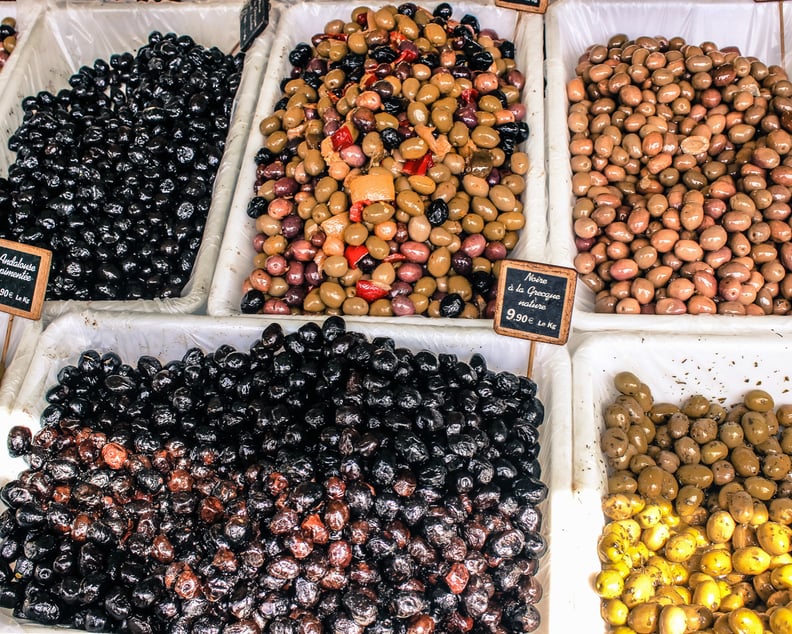 The open-air markets
One of the greatest pleasures when visiting Nice is roaming through the outdoor markets. Whether you're a fan of flea markets, farmers markets, flower markets, antique markets — well, you get the idea! — you'll find all that and more when you make your way to the Cours Saleya.
Ranked as one of the country's most special markets, this one can't be missed! Tuesday through Sunday, it serves as a spectacular flower and produce market, and then turns into an antique market on Mondays. And on Summer evenings, it even becomes an arts and crafts market.
I would highly recommend visiting the produce market. Never have I ever seen a more beautiful presentation of fruits and veggies. Peppers as large as your hand. Olives the size of golf balls. Rows upon rows of vibrant colored spices. And ruby-red tomatoes bursting with juicy flavor. My mouth waters just thinking about all the fresh goodness!
04
The tasty socca
If you're a lover of chickpeas and pancakes, you must try socca, a local specialty originating from the South of France. As you can probably guess, socca is pretty much like a chickpea pancake. Cooked in a wood oven on a large, round steel plate, this quintessential street food is then chopped up, drizzled with olive oil, and kissed with a pinch of salt and pepper. It is thin, crispy, and out-of-this-world delicious.
05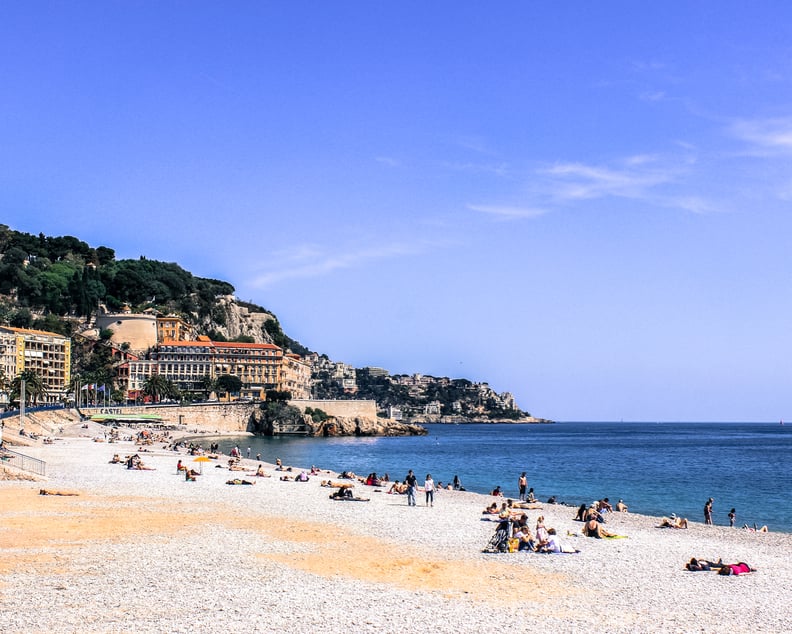 The lively beach scene
With its stunning seaside location, it is no surprise why Nice is such a magnet for sun-seekers. And although the main public beach is made entirely from flat pebbles, that doesn't seem to rain on anyone's fun-in-the-sun parade. Filled with both tourists and locals, this seashore buzzes with energetic vibes, no matter what time of day.
06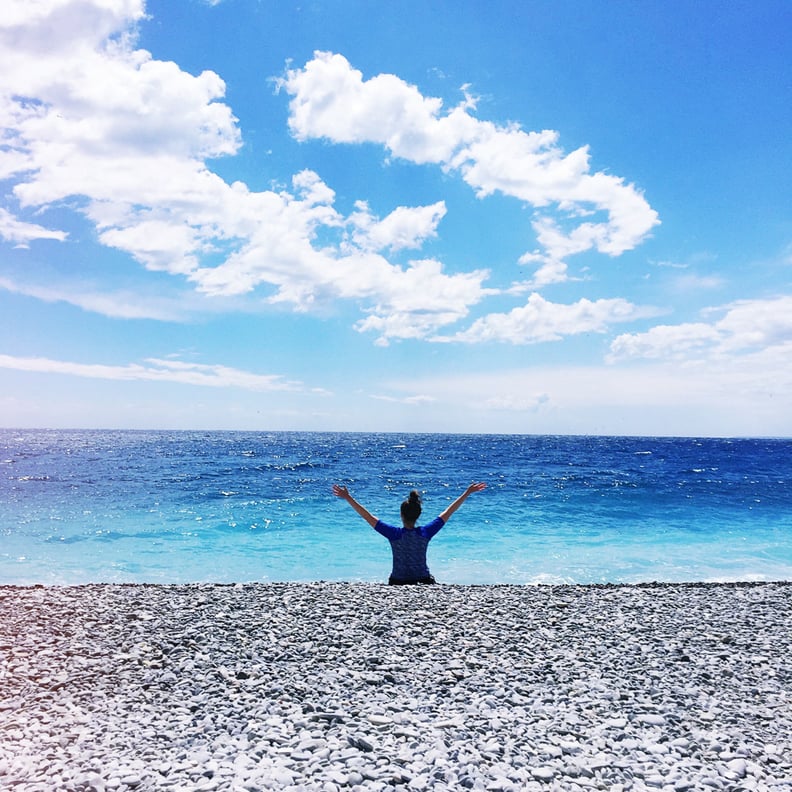 The gorgeous oceanic colors
From rich navy to crystal-clear turquoise, the oceanic colors of Nice will leave you speechless. In fact, you will not only become tranquilly hypnotized while staring into these gorgeous waters, but your mind will have the chance to re-center itself, leaving your body feeling restored and awakened.
My advice? Allow yourself to soak in all the surrounding beauty. The fluffy white clouds. The clear blue skies. The pebbled beach. Just sit back, admire, and let the waves quiet your mind.
07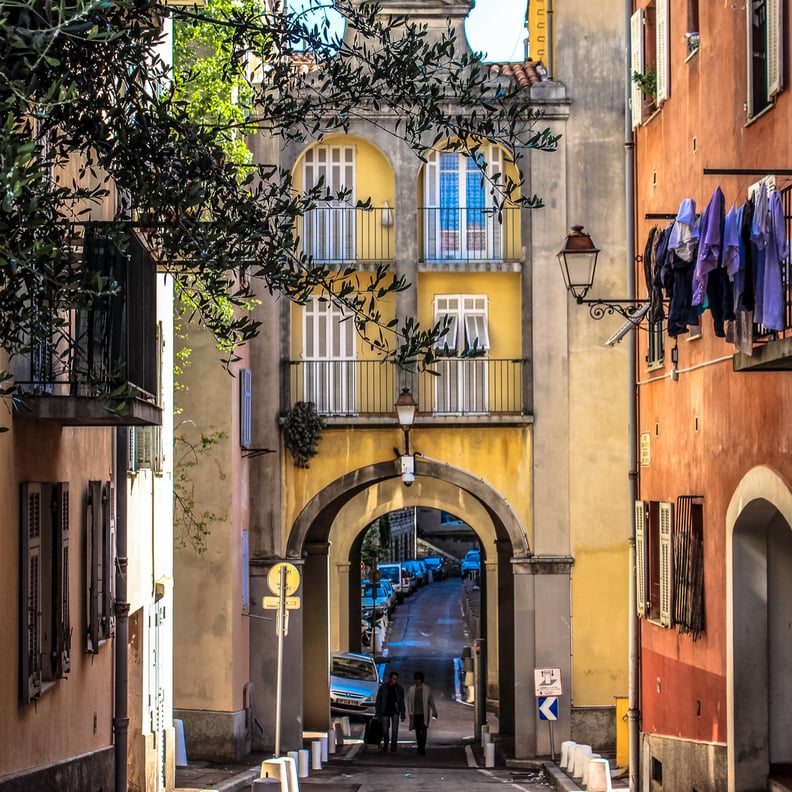 The endless charm of Old Town
Seeking charm? Well then quite an experience awaits you in Old Town. Also known as Vieille Ville, this is the oldest quarter of Nice still standing, and is a must see when visiting the French Riviera. Oozing with glorious architecture, vibrant bright colors, and picturesque cobblestone alleyways, the best way to explore this part of the city is to put away your map and simply wander.
08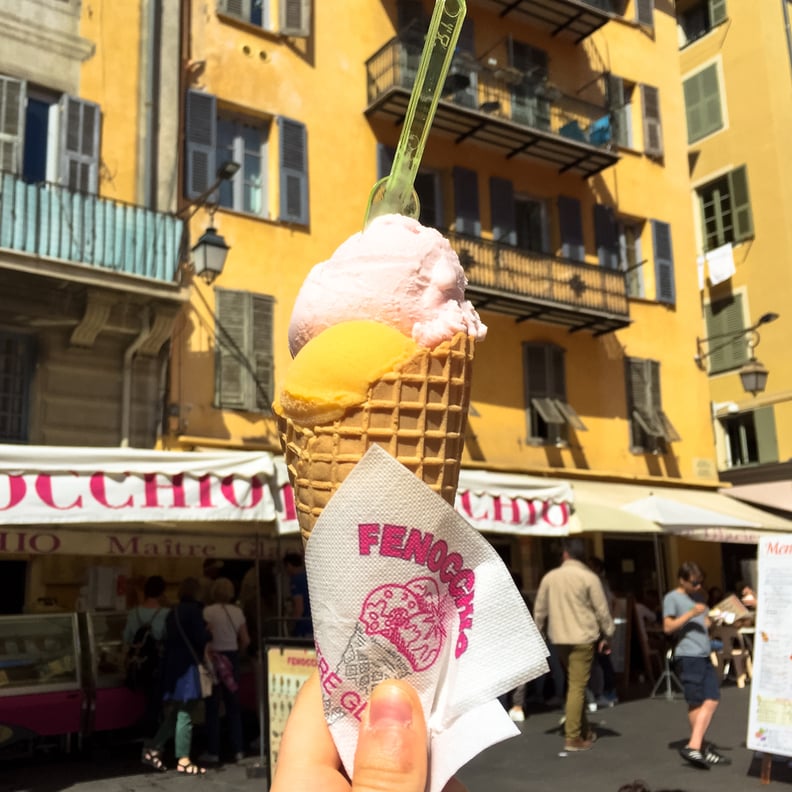 The mouthwatering gelato
Ah, gelato. While many people tend to associate this thick, creamy goodness with Italy, I've got to say, the gelato from Fenocchio was just as divine. Crafting cones since 1966, this gelato parlor has become a true Riviera institution over the years. And with 100 unique flavors — such as rosemary, tomato-basil, and lavender — lining the frosty glass cases, you're bound to have a tough time deciding on just a few flavors.
09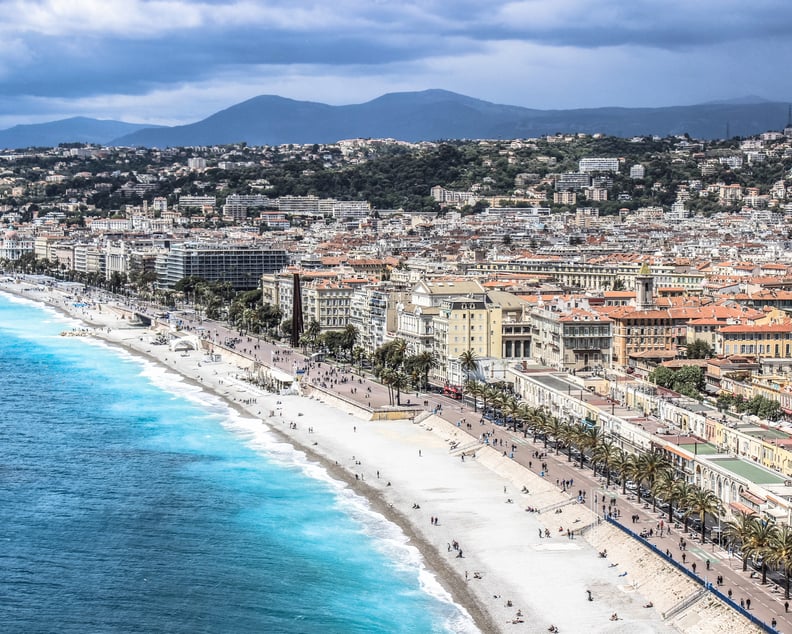 The breathtaking Promenade des Anglais
If you're in the mood for some movement after all those delicious scoops of gelato, a great option is hiking up to Castle Hill, the highest point in Nice. What was once used for military purposes, this hilltop area now serves as a public park, and is considered a must-see attraction when visiting the city, as it offers phenomenal panoramas, including a breathtaking view of the Promenade des Anglais, the bustling promenade along the beach.
10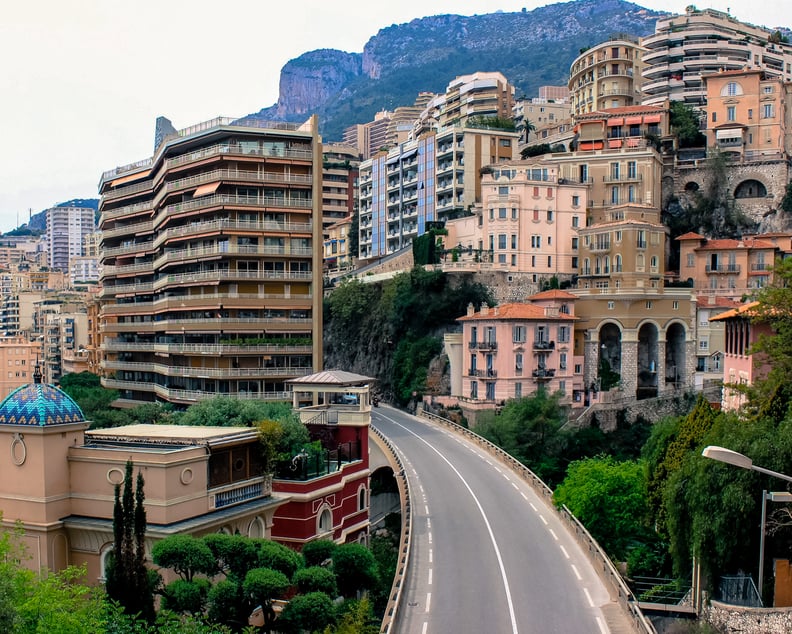 The accessible day trips
One of the great things about visiting Nice is its proximity to other towns and cities. With so many train and bus options, you can easily embark on day trips to Monaco, Cannes, and even the legendary Saint-Tropez. I would highly recommend visiting Monaco if time permits. Not only is it just a short 30-minute train ride from Nice, but the journey also allows you to view more of the beautiful Riviera, as the train travels right along the coast.
11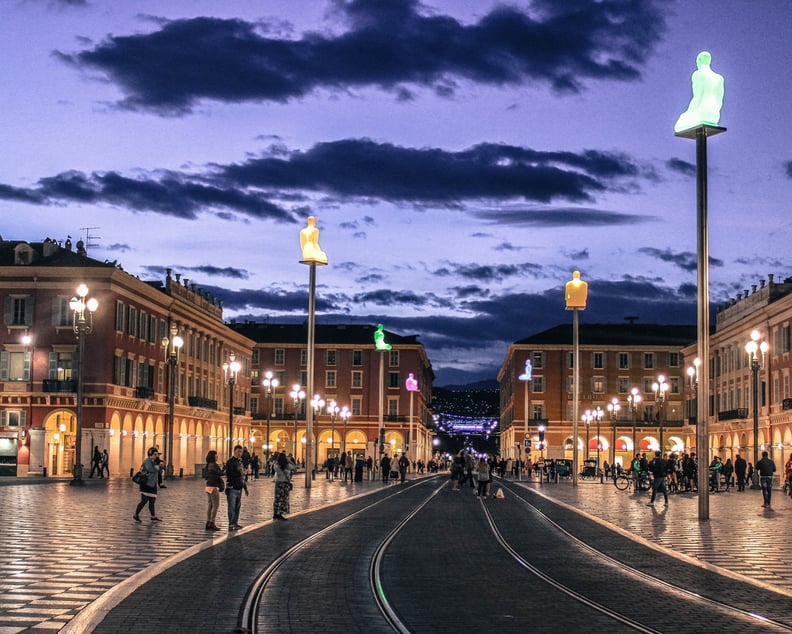 The vivacious nightlife
It won't take long to uncover the nightlife in Nice can be just as sizzling as the Summer temperatures. From piano bars and classic pubs to street performances and live music, a nighttime full of fun is what you'll find in this pocket of the Mediterranean. And the cool evening breezes will provide just the excuse to dance the night away!
12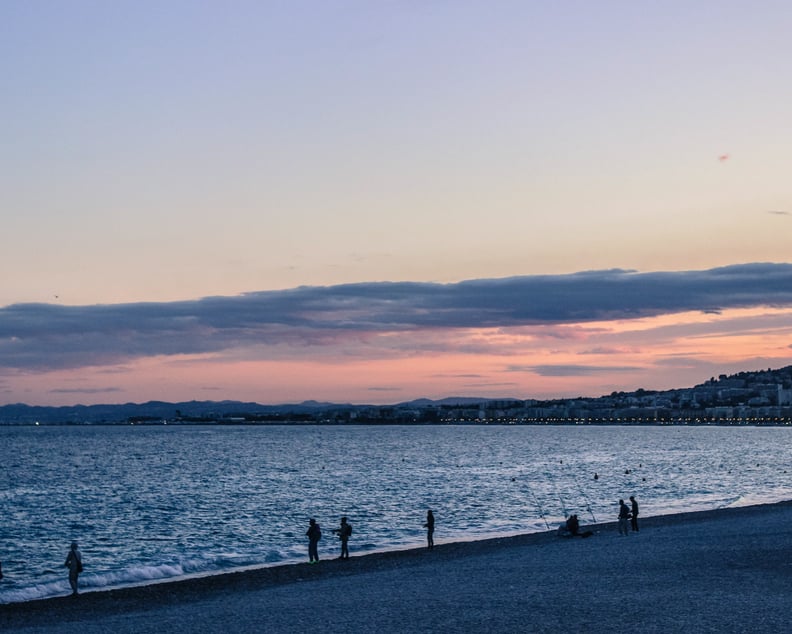 The cotton-candy colored sunsets
Taking in a cotton-candy colored sunset is a sure way Nice will forever secure a special place in your heart. Whether you're viewing from the pebbled beach or high above the city on Castle Hill, few things will ever compare to the beautiful picture Mother Nature will paint as the sun begins to rest for the day. It is during this moment you will feel gratitude rush through your veins as you reflect on your visit, all while smiling as you dream about your return.