5 Tips For the Ultimate Tailgating Experience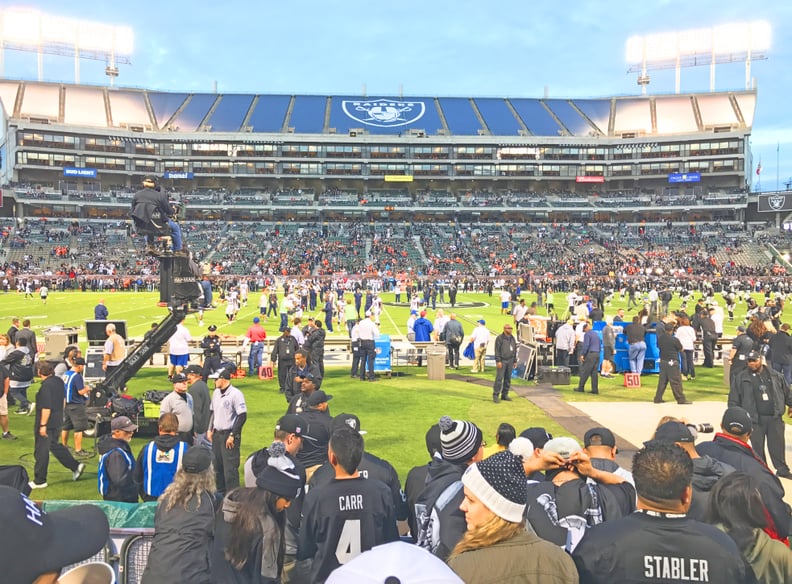 POPSUGAR Photography | Macy Williams
POPSUGAR Photography | Macy Williams
If you're going to tailgate for a football game, you have to do it right. And boy, did I do it right this time. Audi on Demand invited me to test its luxury car rental service and drive to a Raiders football game. It was easy and fun — both things you want when headed to a crowd of pumped-up fans. In order to save you time and stress, we have rounded up our best tips for having the ultimate tailgating experience. Follow these simple pointers and you will have the best game-day experience ever, whether you're a regular ticket holder or a football rookie.
1. Stock up on food in advance.
The great thing about tailgating is that you can fill up on food before heading inside the stadium, where snack prices are ridiculous. Make sure to bring more than enough food or drinks for your group so that you won't ever have to leave your seat for eats once the game begins. Choose things that are easy to cook like hot dogs and burgers so that you can still socialize with all of your friends.
2. Use a rental car if you're visiting a city.
If you don't live in the city where the game is, getting a rental car is a no-brainer. Fans attending Raiders or 49ers games should try out Audi on Demand in San Francisco so that you can avoid picking up or dropping off the car. After you pick the Audi of your choice on the service app, a concierge will meet you to give you the vehicle. Later, they will pick it up when you're finished. It was so easy and really cool to bring to the tailgating parking lot outside of the stadium. We made friends fast with our shiny new ride.
3. Create makeshift speakers for your music.
Trust me, you don't want to lug your heavy and valuable speakers into a tailgate. It's just not worth the hassle. Instead, stick your iPhone into a red plastic cup to amplify your music. Everybody will be able to enjoy the tunes, and you won't have to worry about someone ruining your nice speakers that are safely back at home.
4. Float a helium balloon from your spot so that you can be easily found.
Choose a distinguishable balloon and pump it with helium. Tie it to your side-view mirror so that your friends can find you without any hassle. There will be a lot of people tailgating, and spending your time on the phone trying to find your buds is the last thing you'll want to do. It's all about being in the moment.
5. Get to know your neighbors.
Tailgating is all about bonding with fellow fans and making new friends. It's like one big party! For me, having the rental car was a good conversation starter, but throwing around a football, sharing drinks, or complimenting a fan's tailgate section is a good place to start. Go in with a positive attitude and you're bound to have a memorable time.