8 Reasons Santorini, Greece, Should Be Your Next Vacation
If you hate stunning views at every turn, gorgeous architecture, and life-changing experiences, you'll hate Santorini, Greece. But if you're a fan, you'd better pack your bags quick. There's more to the volcanic island than whitewashed homes and the surrounding Aegean Sea. Although its picturesque landscapes are pretty up there in terms of why you have to visit, here's eight other reasons Santorini should be your next destination.
01 The wineries are beautiful.
What's better than vino with a view? Santorini has been a famous wine hot spot because of its unique volcanic soil and Mediterranean climate. The island's many wineries are definitely worth the visit, not to mention its photo-worthy seaside and countryside landscapes. A couple of the most well-known wineries include Santo Wines and the white-domed Boutari winery.
02 Even nonhikers won't mind the trails.
Visitors will want to make the climb along the scenic trails from Fira, the capital of Santorini, to Oia. The route passes through churches and Fira's main street with views of the Aegean Sea and the volcano. The last stop of the trail ends at the Castle of Oia, where you can catch gorgeous sunsets.
03 It has unique beaches.
Although Santorini doesn't have the best beaches in terms of long stretches of white sand, it does have some unlike you've ever seen before. Kamari and Perissa beach are most famous for their coarse, black sand and clear waters. Perissa also features a massive mountain-like rock called Mesa Vouno, which is a well-known attraction for shining in the dark.
04 05 There are great swimming holes.
06 You can tour ancient ruins.
07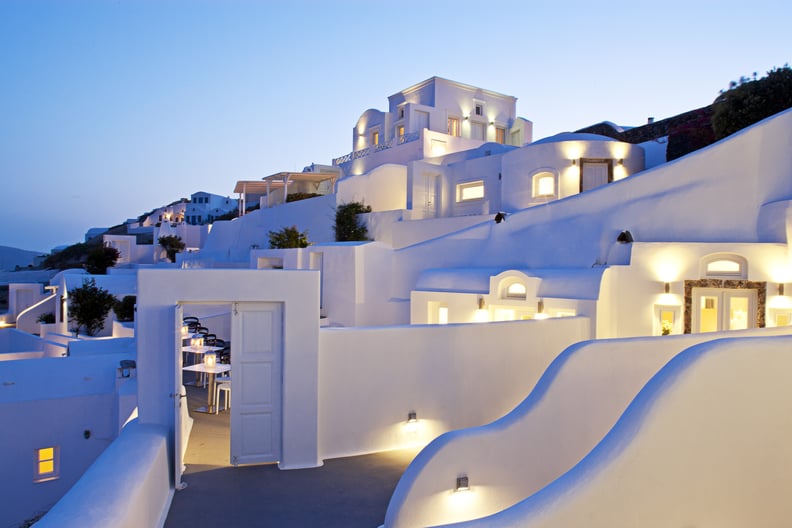 It has the most breathtaking hotels.
Some of Santorini's hotels are as stunning as the island itself. Luxurious getaway Canaves Oia Hotel, which was built into a cliff, is just one of the gorgeous stays available. Its accommodations are so awe-inducing that you may choose to stay in rather than explore the rest of Santorini.
08 You can swim in natural hot springs.
09 The island is undeniably romantic.
Santorini is the ideal honeymoon and travel spot for couples. The ultimate romantic destination, however, is the village of Imerovigli. Referred to as one of the prettiest balconies of the island, the settlement has some of the best views overlooking the sea and caldera (volcanic crater).