What Should You Do If Your Flight Is Delayed?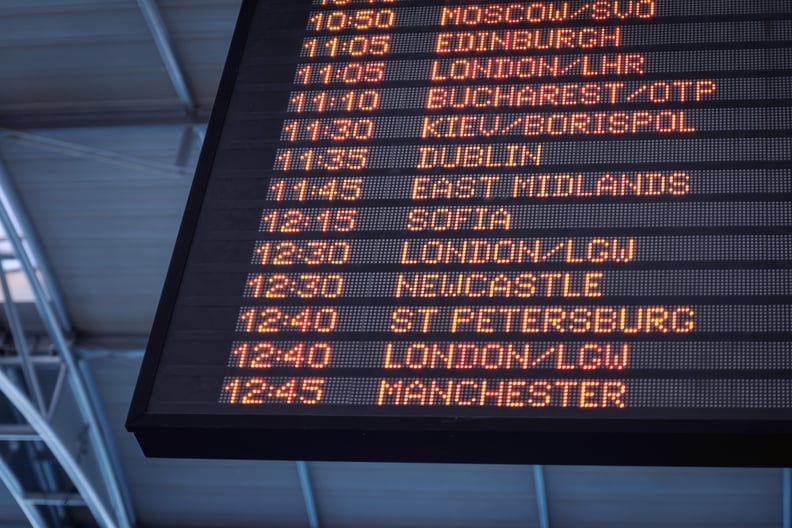 Unsplash | ESHOOTS.COM
Unsplash | ESHOOTS.COM
There's nothing more irritating than arriving for your flight on time — or worse, hours early — and getting notified that it's been delayed. Unfortunately, flight delays are unpredictable and happen often, and though you can't prevent them from occurring, there are some actions you can take on your end. To avoid ruining your trip, follow these seven steps below.
1. Check your flight status before you head to the airport.
Enter your flight information on the airport's directory or FlightStats, and you'll quickly figure out whether your trip is on time, delayed, or canceled. If it's significantly delayed, you at least saved yourself from spending hours, or even overnight, at the airport. You may even have the option to cancel your trip entirely and get a full reimbursement if the airline's policy allows it.
2. Get trip insurance.
This one's a preventative measure, but opt for trip insurance at the time of booking if you can. Not only does this allow you to cancel flights last minute without any penalties, but your airline's policy might also include a full refund for flights delayed past a certain window of time. Each airline will vary, so speak to an airline employee to see what your options are.
3. Check for any earlier flights.
Ask an airline employee if adding you to an earlier flight, whether on your carrier or another carrier, is an option. If you're traveling out of a major airport, chances are that smaller airports near your city will offer flights to your destination around the same time. If it's not too much of a hassle to get to an alternative airport, that could also be an option.
4. If you can't get on an earlier flight, ask what you can get.
The airline probably won't accommodate you for delays that are two hours or less, but you should absolutely ask for any perks if your wait is longer than that. Some airlines may offer you a complimentary lounge pass or food/drink vouchers.
5. Figure out how the delay will affect your connecting flight.
Flight delays are even worse when your flight includes a layover. Even when your flight is scheduled to be on time, the best rule of thumb is to never check luggage in the case of a delay, especially if the window between landing and the connecting flight is tight. If your trip is delayed, the airline employee will put you on the next open flight to your destination, which could mean an additional wait for you at the next airport.
6. Worst-case scenario, grab a hotel room.
If you just can't sit at the airport any longer, check into a motel or hotel close by. You can also ask an airline employee if they're able to offer any discounts at nearby accommodations.
7. Be polite.
No matter how frustrated you are, try your best to be as calm and polite to airline staff as possible — especially during the holidays! They'll be less inclined to help you if you're treating them rudely or disrespectfully, so keep a level head.