Why I'm Not Afraid of Growing Old
I'm a 20-something millennial in a world marketed at me, to me, and for me. I'm guilty of a vocabulary that spews out the words "gorge" and "amaze" all too often, as if I'm in some great rush. My investment in UberEats could rival many. One detail that may just separate me from the rest of my generational counterparts, however, is my approach to death and aging. Morbid perhaps, but keep reading, and I assure you that this won't be the case for long.
I owe my outlook, for the most part, to Advanced Style. The blog, book series, and film, the brainchild of Ari Seth Cohen, presents an undeniably enigmatic band of elders that will do more than just warm your heart by a few degrees. The ladies (and often, gents) that Cohen platforms aren't to be patronized. But if you still feel the need, they likely won't care. They're not seeking validation. What makes them so remarkable and alluring is their attitudes toward life, displaying this through an unconcerned-yet-considered approach to style. These women dress for themselves. And the extent of that is they live for themselves too. There's no time-poor, "woe is me" self-pity here, just a collective of gentlewomen wealthy in life experience, squeezing out every sweet (and sometimes inevitably sour) drop.
Image Source: Getty / Wendell Teodoro
When clucking on about role models to my peers, the names Iris Apfel and Linda Rodin will forever be on my lips. This is true to the extent that I was dubbed "old lady girl" at university. The nickname may lack creativity, but I can't argue with its truth. Every last project I was assigned somehow revolved around my new discovery. When developing brands, pulling together trend forecasting reports, or presenting to the masses, I couldn't and wouldn't shift my target demographic from these invigorated, advanced females.
I interviewed women in their prime, and it left me feeling higher than post-pizza, first love and that feeling you get when you see your favorite band play. June, a costume designer and actress in her 80s, fed my soul as she waxed poetic about working on the original episodes of Doctor Who with Tom Baker. It dawned on me that I was right to be skeptical of society's prioritization toward youth.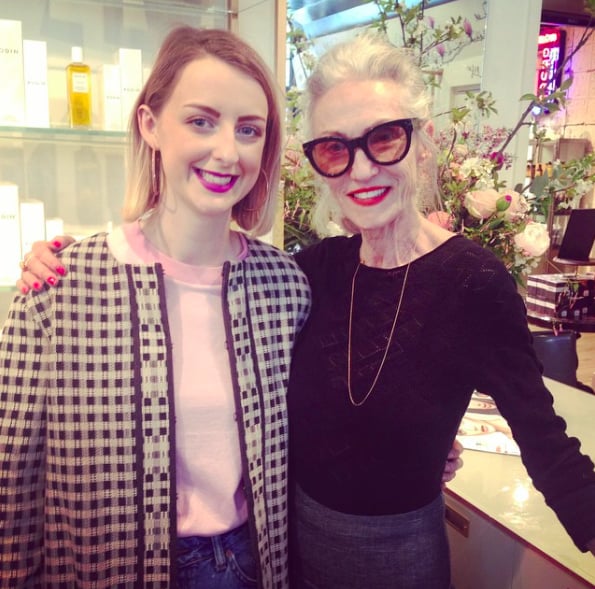 Live fast, die young, I will not. The reality of my youth is a high rent, technology-dependent, emotional flip-flop. I am tortured with the plight of staying informed, with a world swallowing up information faster than I can knock back the contents of a pomegranate. Oh, and how I love pomegranate. Women who have stepped past their 60s, however, don't seem to be tormented by the same expectations. They've endured vast periods of political change, grief, joy, confusion, denial, love, expectation, disappointment, satisfaction, and self-discovery. Their priorities are simple, honest and true to only them. And if you ask me, that sounds like a blissful place to me.
While we're busy glamorizing full lips, wrinkle-free foreheads, and supple "bikini bodies", I find myself not longing for but sweetly anticipating a more journeyed and balanced soul that can only come with aging. I thank all the women who live without fear of age for restoring my perspective on a long life, for the better. While I embrace my youth, I will appreciate the soul ripening, too.