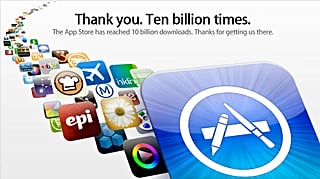 As Apple approached its 10 billionth app download, it announced a large prize for the person who downloads the milestone app: a $10,000 iTunes gift card. Late last week, Apple hit the mark, and when the VP of iTunes tried to contact the winner, Gail Davis of the UK, she thought it was a sales call and hung up the phone.
Luckily, an Apple representative was able to reach the winner, who realized her daughters had downloaded the fateful app (free game Paper Glider). The family plans to spend the $10,000 on more apps. (Side note: I wonder if that is even possible.)
Davis says, "The more I thought about it, the more I realized it was a genuine call. The girls were getting quite tense. They never would have forgiven me. They would have held it against me for all eternity."