10 Percent of People Would Check Messages During Sex
10 Percent of People Would Check Texts During Sex — Would You?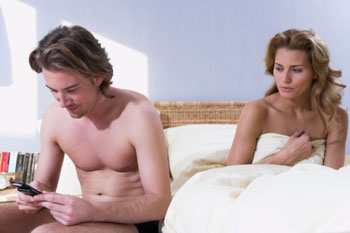 Although I've admitted to keeping my iPhone on me at all times, I'm a little surprised at these numbers: a recent study says that almost 10 percent of people on average are OK with interrupting sex to check electronic messages. Unbelievable? Well, that number climbs even higher for those of you under the age of 25. But it doesn't stop there — nearly 50 percent of people 25 or younger are OK with dinner-time interruptions, while nearly a quarter of study participants would check messages while in the restroom. I have a problem with people whipping out their phones to check emails and messages while at the table, so this goes way beyond my boundaries of text etiquette for me.
Could this indicate that as a society we are addicted to staying "connected" . . . or is it really telling us that we're just not that good in bed? Either way, tell me — would you interrupt sex to check a message?